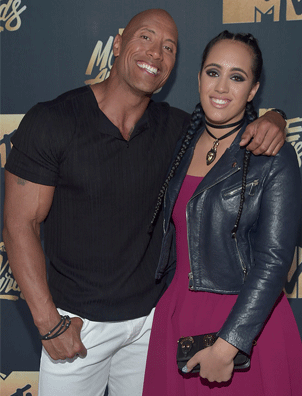 Dwayne Johnson Brought the Perfect Date to the MTV Movie Awards — His Daughter
The MTV Movie Awards became family night for Dwayne Johnson, who had the support of his daughter Simone Alexandra and ex-wife Dany Garcia in LA on Saturday night.

The actor, who showed off his bulging biceps in a black t-shirt, posed for pictures with his daughter prior to hitting the stage with funny man Kevin Hart. While Dwayne is hosting the ceremony, he is also nominated for best action performance for his role in San Andreas. Last week, he took a break from filming Baywatch and returned to the ring, where he broke WWE records at Wrestlemania 32.