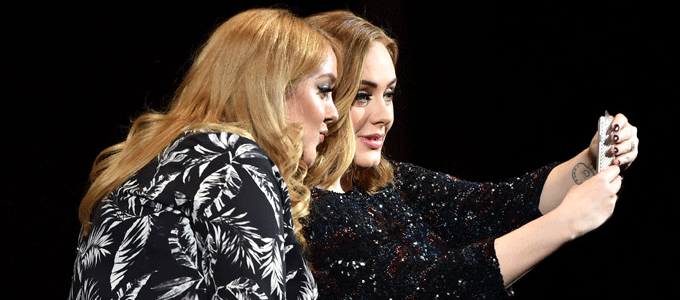 Adele Almost Fooled Us When She Said "Hello" to Her Lookalike on Stage
Some fans may have been seeing double when the singer allowed a superfan to take the stage at her Birmingham concert.

It all began before showtime when Emily Bamforth caught the attention of many fans around the arena. After strangers began asking the 27-year-old if she was Adele, her fiancé took to Twitter in hopes of grabbing Adele's attention. "Everyone thinks my girlfriend is you!" Tom wrote on social media. "She's been asked 10 times now!"

He continued, "4 rows from the front and people won't stop saying my fiancé looks like Adele!" As it turns out, all the posts paid off because the singer ultimately wanted to see what the fuss was about. After a brief introduction and a huge hug on stage, the pair was able to snap a selfie to the delight of many fans.

"@Adele made my fiancés day, month, year!" Tom shared with a picture many fans could only dream of. "Thank you for the massive amount of brownie points!" He added, "Not bad for a girl from northampton hey!"

To say Adele's worldwide tour has been filled with surprises may just be the understatement of the year. Whether helping couples propose or twerking for a few lucky fans, the "Someone Like You" singer has been keeping fans entertained nonstop.