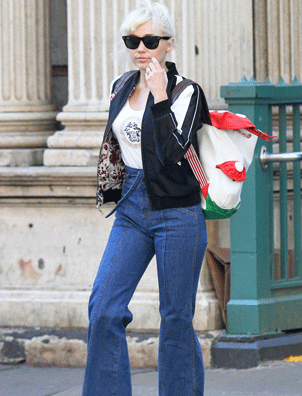 Miley Cyrus Shows Off Her Engagement Ring and '70s Style While in New York City
Miley Cyrus' style right now is all about bling and bell bottoms. The young celeb was spotted going on a brisk walk around the Soho neighborhood in downtown Manhattan, and just so happened to be photographed with her left hand up for the world to see, which means—hello, engagement ring! Miley flashed her diamond from fiancé Liam Hemsworth while in New York City, while also rocking some serious '70s-inspired style. Along with an "8 dolla versayyyyyyce" top and black jacket, Cyrus wore some high-waisted denim flare pants, and we gotta say—she is working it.

Fans recently got an up-close glimpse of Miley's sparkler when she attended the New York Knicks' game against the Cleveland Cavaliers in Madison Square Garden over the weekend.

The singer, who became "embarrassed" after appearing on the jumbotron, attended the game with her sister Brandi Cyrus, 28, and their mother, Tish Cyrus, 48. Tish posted on her Instagram page a photo of the three standing on the court, while Brandi shared a snap of the two sisters enjoying the ball game courtside, which also flaunted Miley's ring.

Cyrus is currently in New York filming for her latest project, Woody Allen's newAmazon series, and will soon become a permanent face on The Voice. The singer/actress is joining the show as a coach for season, she confirmed on Twitter. "It's true! I am going to be the newest judge on Season 11 of The Voice @NBCTheVoice #thevoice," she wrote.