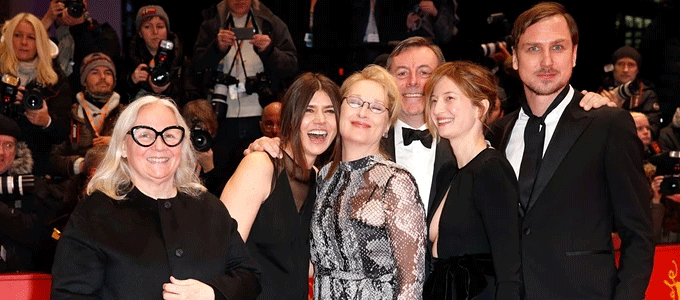 Special: Berlin International Film Festival
The public programme of the Berlin International Film Festival shows about 400 films per year, mostly international or European premieres. Films of every genre, length and format find their place in the various sections: great international cinema in the Competition, independent and art house inPanorama, films for young audiences in Generation, new discoveries and promising talents from the German film scene in Perspektive Deutsches Kino, avant garde, experimental and unfamiliar cinematography in the Forum and Forum Expanded, and an exploration of cinematic possibilities inBerlinale Shorts. The Berlin International Film Festival is a source of inspiration in the global film community: film programmes, workshops, panel discussions, joint projects with other social and cultural actors – the forms of cooperation and the possibilities for creative interaction are countless.

The most important meeting point is the European Film Market (EFM). Around 550 companies and more than 9,000 professionals from 110 countries build and foster contacts here, strengthen their position in the industry or negotiate film rights. The Berlinale Co-Production Market, affiliated to the EFM, offers fertile ground for international co-productions.

Berlinale Talents brings high profile professionals attending the Berlinale to workshops and discussions with 300 promising young film talents from all over the world. Both sides benefit. The talents profit from the experience of the professionals, who in turn gain fresh ideas from taking part.The World Cinema Fund (WCF) provides financial support to film projects in countries with weak film infrastructure thereby helping strengthen the regions' position on the international film market.The Berlinale Residency programme offers international directors a grant to come to Berlin for several months.