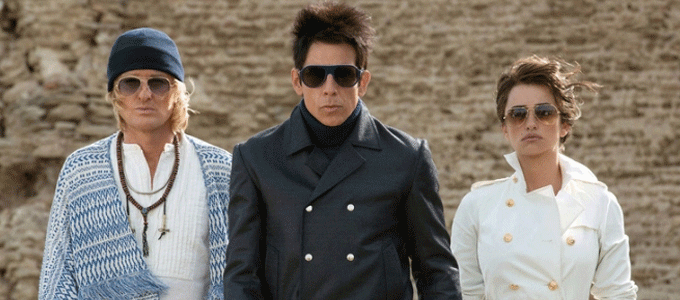 Movie Report: Zoolander 2
Plus-size models are seldom flattered by squeezing into skimpy sample-size garments, and the reverse is also true in the case of Zoolander 2, which drowns its svelte skeleton in acres of fussy couture. Director, co-writer and star Ben Stiller resurrects his "really, really, ridiculously good-looking" male model alter ego 15 years after the irresistible first movie overcame disappointing box office results to earn cult adoration on DVD. But the imbecilic charms of a character that began as TV sketch material are too often misplaced in this wildly over-plotted, under-energized action comedy, plumped to a bursting point with celebrity cameos.

The goodwill of original fans and the fun of playing spot the star (especially in a Hansel orgy) should give the Paramount release an initial boost. But it seems more likely to be a fashion-week flash than a season-long sensation.

The fashion industry was certainly ripe for satire when Zoolander came along in 2001, though opening two weeks after 9/11 was awkward timing for such a proudly frivolous voyage to the outer limits of pop-cultural vapidity.

Despite its relentless name-checking, Zoolander 2 functions strictly within its own goofy screen-comedy universe, so its satire is toothless. The dim-witted Derek Zoolander, his former runway rival Hansel (Owen Wilson, back in full butterscotch-stallion mode), and tantrum-throwing monster Mugatu are stitched into a high-concept story of celebrity serial murders, a mythical promise of eternal youth and a conspiracy to wipe out the most influential figures in fashion. By comparison, the original movie's plot to brainwash Derek into assassinating the Malaysian prime minister seems a model of linear clarity. The bigger issue, however, is that not one of the patchy sequel's threads really holds together, even within the elastic boundaries of farce.