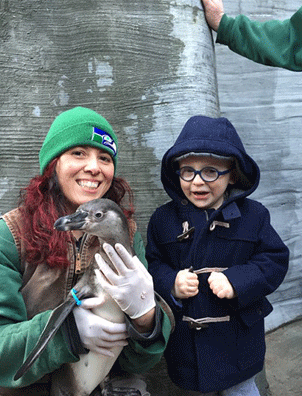 See the Adorable Moment Anna Faris and Chris Pratt's Son Jack Met the Penguin He Named Eagle
On Tuesday, Anna Faris and Chris Pratt's 3-year-old son met the penguin he named last year.

Faris, 39, documented the moment on Twitter sharing two snaps of Jack's experience with the bird he named Eagle.

"Jack got to meet eagle the penguin! Thank you so much @woodlandparkzoo @prattprattpratt," the mother of one captioned the photo.

In the snap, a bundled up Jack looks adorably timid as he stands next to a zookeeper holding the penguin. However, it didn't take long for the toddler to notice a certain something about the animal that didn't quite sit well with him.

"This was also a less-adorable expression upon introduction-turns out sometimes penguins smell," Faris captioned a second pic, in which her son makes an unpleasant face, as he stands noticeably further away from the penguin.

Jack named the animal in October, after the Woodland Park Zoo in Seattle asked the Washington natives to do the honors of giving the newest penguin its moniker.

"Chris and I grew up in Washington state and we love bald eagles.We though that a penguin with aspiration to fly might be really gun. We cannot wait to meet you Eagle!" Faris said at the time.