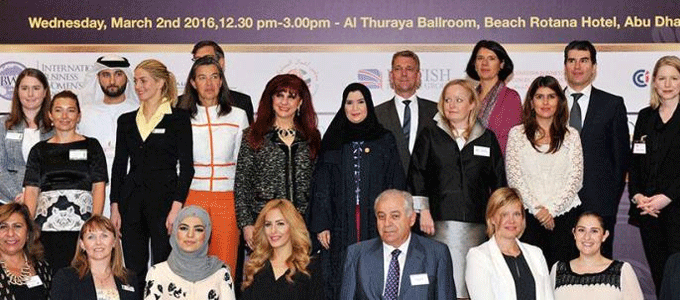 Amal Al Qubaisi attends International Women's Day celebration
Dr. Amal Abdullah Al Qubaisi said the main motive behind this radical shift in the Emirati women's status is due to the unprecedented commitment of the UAE leadership since the establishment of the Union under the leadership and legacy of the late Sheikh Zayed bin Sultan Al Nahyan, which is being sustained by President His Highness Sheikh Khalifa bin Zayed Al Nahyan, follow up of His Highness Sheikh Mohamed bin Zayed Al Nahyan, Crown Prince of Abu Dhabi and Deputy Supreme Commander of the UAE Armed Forces and the efforts of H.H. Sheikha Fatima bint Mubarak, Chairwoman of the General Women's Union (GWU), Supreme Chairwoman of the Family Development Foundation (FDF) and President of the Supreme Council for Motherhood and Childhood.

In her statement during the celebration, organised by the International Business Women's Group (IBWG) in Dubai on the occasion of the International Women's Day, at Beach Rotana, Dr. Al Qubaisi hailed the event being held in cooperation with the Australian Business Council and the Benelux Union.

During the event, the FNC Speaker was granted the Inspirational Woman Award 2016 by IBWG. Dr. Al Qubaisi spoke about her journey to reach this important office. She also praised the role played by the UAE in the field of women empowerment, with women occupying a number of leadership positions in the country, thanks to the support given by the wise leadership and the efforts of H.H. Sheikha Fatima bint Mubarak.

She also reiterated that the policy adopted by President His Highness Sheikh Khalifa has enhanced the process of women empowerment, a fact reflected through the strategy launched by Vice President and Prime Minister and Ruler of Dubai His Highness Sheikh Mohammed bin Rashid Al Maktoum. She said, "We also feel pride at the role played by Sheikh Mohamed bin Zayed and his sharp vision to build a shining future as well as the role played by the Supreme Council Members, Their Highnesses the Rulers of the Emirates."