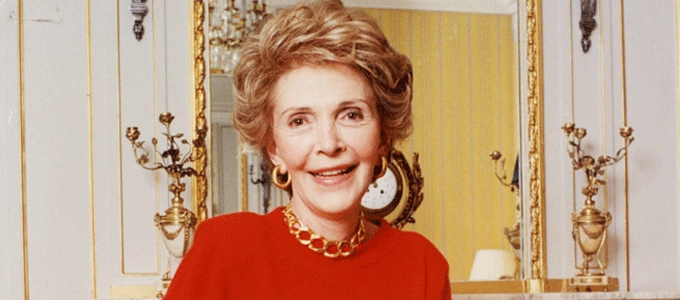 Nancy Reagan, Actress Who Became Powerful First Lady, Dies at 94
Former first lady Nancy Reagan, who as an aspiring actress married affable leading man Ronald Reagan, and then offered her unfailing support and Hollywood style as his unlikely political career took them to the Sacramento's governor's mansion and then all the way to the White House, has died. She was 94. A family spokesperson told CBS that Reagan died Sunday in her Los Angeles home of congestive heart failure.

Reagan had a reputation as her husband's greatest protector, whether regarding publicity or public policy, but she won public admiration as she took on the role of caregiver as he faced the onset of Alzheimer's disease in the last 10 years of his life.

Nancy Davis was an actress under contract with MGM in 1949 when she first met Reagan, then president of the Screen Actors Guild, and asked for his help in clearing her name after it mistakenly appeared on a list of Communist sympathizers in Hollywood. Over dinner, they hit it off and started dating, but it was several years before Reagan, recently divorced from actress Jane Wyman, would be ready to tie the knot again.

They did in 1952, and the new Mrs. Reagan gave birth to a daughter, Patricia, or Patti, later that year and six years later to a son, Ron. Although she hadn't intended to continue acting, her husband's film career was on the wane and, as she later described it, "We needed the money." She reluctantly took a part in the low-budget "Donovan's Brain," "Crash Landing" and "Hellcats of the Navy," the last of which was the only film in which she appeared with her husband.

By the time "Hellcats" was released in 1957, Ronald Reagan had taken on a lucrative gig as celebrity spokesman for General Electric and host of its weekly anthology "G.E. True Theater," in which he occasionally acted with Nancy. This career turn would form the basis for his plunge into politics.

Having switched party affiliation in the early '60s, Reagan campaigned for Barry Goldwater's 1964 presidential bid, and the actor made a mark with a nationally televised address for the candidate just days before the election. Though Goldwater was walloped, it set the stage for Reagan's California gubernatorial bid in 1966, and although Nancy was initially shy about her own involvement in the statewide campaign, she agreed to trek across the state as a surrogate and grew accustomed to the idea of being a political spouse.

In Sacramento, facing criticism of her husband, especially during the tumultuous student protests of the late 1960s, proved jarring for Nancy. In one incident, two men tried to throw a Molotov cocktail through the bedroom window of their residence. Years later, she recalled that when a negative story was written, she would take a bath and hold imaginary conversations with his critics.

Though Nancy often said her influence was overblown, she did remark that she made "no apologies for telling Ronnie what I thought," and the press began to see her as her husband's "chief protector." That was apparent by the time that Reagan entered presidential politics, first waging a campaign in 1968 to snag the GOP nomination over Richard Nixon, and then in 1976, when he led a conservative revolt that fell just short of defeating incumbent President Gerald Ford. Initially reluctant about her husband's White House ambitions, Nancy Reagan gave him her full support, serving as a check on the campaign staff as they put him on a rigorous schedule. Her influence grew by the time he ran again in 1980, and she helped arrange meetings to try to deal with staff infighting, including on the day of the New Hampshire primary when campaign manager John Sears was given his walking papers. Later, as her husband secured the nomination and was weighing vice presidential prospects, she told her husband that the idea of a "dream ticket" with Ford in the No. 2 spot "just won't work," and the idea fell apart at the convention.