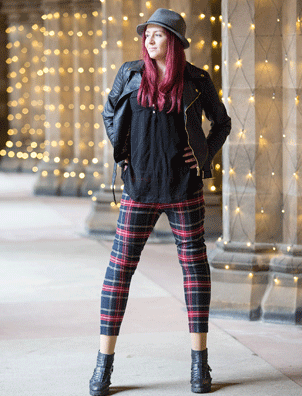 Girl who lost both legs to flesh-eating bug overcomes pain to become a model
Stacy Paris, 30, lost both her legs after contracting a flesh-eating bug and has now become a model for change. She is supporting a campaign, Models of Diversity, to change employment laws which would give more disabled models rights.

The campaign is pressuring the government to force agencies to photograph one disabled model for every five able-bodied models. Stacy said: "According to the latest figures, one in six people in Britain has a disability but where are all the disabled models? When I was starting out, I had no-one to look up to."

So far Stacy, a student of molecular biology at Glasgow University, has worked with agencies around her hometown and is aiming to work further afield. The industry is starting to work with more diverse models, such as the cosmetics brand GlossiGirl who signed 18-year-old Madeline Stuart as the face of the company.

And Jillian Mercado, who has muscular dystrophy, works for IMG Models - a high profile agency that signed Brazilian fashion model Gisele Bundchen. Stacy is also new to the industry, modelling first in 2015 just a few months after her second amputation.

Seven years ago, while on holiday in France, Stacy developed a pain in her foot. She said: "It just got worse and worse, so I had to give in and go to hospital. "They thought it was some kind of infection but they did lots of tests and X-rays and they discovered the bones in my foot had been almost completely destroyed.

"Nobody could explain it - there was no wound, I hadn't injured myself. It just came out of the blue."