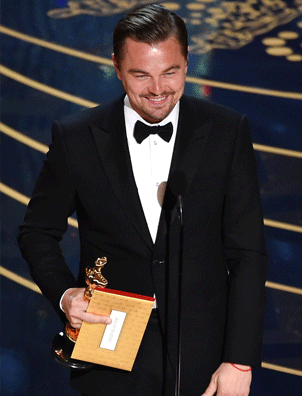 Leonardo DiCaprio Has Been in 'the Best Mood' Since Winning Oscar
Leonardo DiCaprio recently stepped out at a club, nothing unusual except that unlike last weekend, he is now an Oscar winner.

The Revenant star, 41, hit the town in Los Angeles just days after winning a Best Actor trophy at Sunday's Academy Awards, his first after five nominations. According to a source, Friday marked the third night this week that DiCaprio had stepped out with his friends.

"Since his Oscar win, Leo keeps celebrating with friends. He has been at several LA clubs since Sunday," the source said. "He has been in the best mood."

Robbie, 25, was more animated.

"I screamed. I literally screamed," she said. "Everyone was beside themselves, no one would sit down, just kept clapping as he was doing his speech. It was an amazing moment."

She wasn't the only one: A Los Angeles street artist celebrated DiCaprio's Oscar with a mural, emblazoned with the words "never never give up."

"We always strive for the best in what we do, but this year in particular, I've been overwhelmed with such support, really truly, by so many fans and so many people in the industry," DiCaprio told reporters immediately after his win. "It's quite shocking honestly, and what can you say but I'm very grateful."