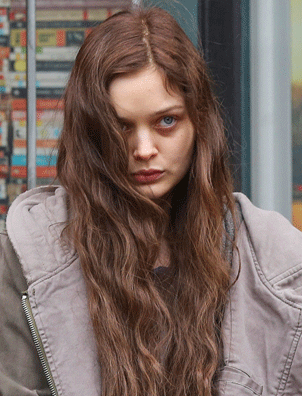 Bella Heathcote Is Unrecognizable on the Set of Fifty Shades Darker
The Australian actress has been spotted in Vancouver filming the highly anticipated sequel to the BDSM-themed flick Fifty Shades of Grey, the 28-year-old star looking completely transformed and totally in character as Leila Williams—a jilted ex-lover of Christian Grey (Jamie Dornan) who suffers a mental breakdown and starts stalking Dakota Johnson's Anastasia Steele, Grey's not-so-submissive new partner.

Heathcote swapped her cropped blond bob for long brunette locks, perfect for the Anastasia look-alike she's slated to bring to life. Yikes! Happily, all is perfectly friendly when the cameras aren't rolling! In another BTS pic, Heathcote chats with Dakota and co-star Eric Johnson. Wearing a baggy cargo jacket, the actress offers Fifty Shades fanatics a glimpse at a bloody bandage wrapped around her wrist.

With this in mind, there's no doubt that Bella's character will only complicate Anastasia and Christian's already turbulent relationship.

But as the second novel in author E.L. James' trilogy reveals, Christian isn't the only one with skeletons in his closet. Eric has been tapped to play Jack Hyde, Anastasia's new boss that takes an uncomfortably creepy liking in her.

Could it be possible this film is even more insane than the first—as in, really 50 shades...darker? You'll have to wait until Feb. 10, 2017, to find out, but until then check out Dakota and Jamie's rainy makeout sesh from the set!