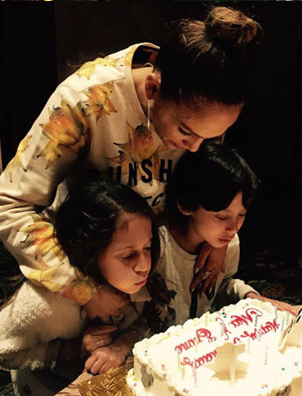 Jennifer Lopez's Twins Don't Care That She's Famous: "Mommy Needs to Work!"
While she might be the multi-millionaire frontwoman of a Las Vegas residency, anAmerican Idol judge and overall superstar, none of those accolades prevent her from sharing the same stresses as the average mom.

During a Tuesday appearance on Late Night with Seth Meyers, the 46-year-old mom of two reflected on her twin daughter and son's most recent milestone—their eighth birthday.

"It was a tough birthday for me," Lopez admitted. "It was the first birthday where I realized they're not babies anymore." To commemorate their birthday, the singer penned an adorable message to the duo on Instagram.

"You have brought me nothing but joy and happiness since the very second you were born. I am so proud of who you are and the beautiful loving caring people you are growing into," she wrote. While mom was busy secretly crying, Emme and Max were planning away for their birthday festivities.

"We went to Disney at their request," she added. While paparazzi and onlookers couldn't get enough photos of their magical birthday rendezvous, the attention doesn't phase Lopez's kids.

"They know [that I'm famous] and they've heard from school now because kids will say things at school...they know their dad [Marc Anthony] sings. They've seen us perform. They've seen me on TV," she said. "They don't care at all." "'Mommy needs to work,'" Lopez tells the kids. When they ask why, the answer is just as simple as the average Joe. "So we can eat and stuff!"