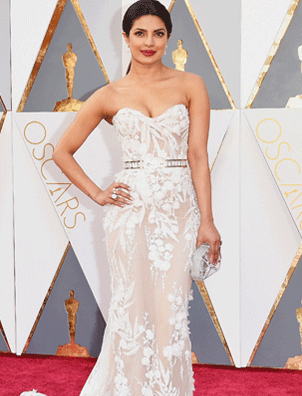 Priyanka Chopra Wanted a "Classic" Oscars 2016 Dress That Was Pretty and Practical
The 33-year-old actress told E! News she wanted "to be comfortable, for sure," in her gown, and the dress itself needed to be "something that lasts all evening—it's not ripping!"

"Especially because I'm jumping right from the Oscars to the Vanity Fair party," said the Quantico star, who ended up wearing a stunning Zuhair Murad white dress. "I go straight to the airport in my gown—[I'll] change in the airport bathroom, and take a red-eye to start Baywatch [Monday] morning." Of course, Priyanka wanted her dress "to be pretty," she said. "I want it to be like feminine, and very classic for the Oscars. "

Mission accomplished! Priyanka's Zuhair Murad gown didn't actually have to last her all night long, though—she slipped into a shimmering Jenny Packham dress for the Vanity Fair Oscars party (and presumably switched into something a bit more laid-back for her overnight flight to Boca Raton).

Although Priyanka was making the most of all things Academy Awards, she was really looking forward to shooting for Baywatch the next morning. To hear what the actress has to say about joining the iconic franchise, working with Dwayne "The Rock" Johnson, Zac Efron and more, watch the clip above.