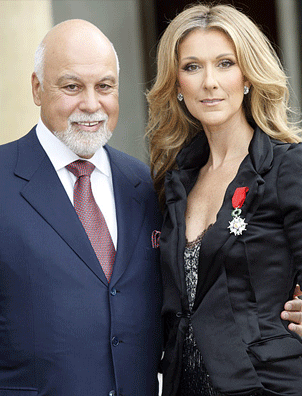 Emotional Celine Dion Honors Late Husband René Angélil
It was an emotional night in Sin City. Céline Dion made her return to the Las Vegas stage Tuesday evening for the first time since the loss of her husband René Angélil, who died of cancer in January, and the singer gave such a touching tribute to her partner of 21 years, which began with a written message to the crowd.

"I understood that my career was in a way his masterpiece, his song, his symphony," the text read. "The idea of leaving it unfinished would have hurt him terribly. I realized that if he ever left us, I would have to continue without him, for him."

This was followed by a sweet montage highlighting different stages of his life through photos ranging from his childhood, young adult years, his relationship with Celine and his time as a husband and father. Dion then appeared on stage and was greeted by a standing ovation from the crowd.

Without saying a word, she dived into a beautiful ballad, singing Barbra Streisand's "With One More Look At You/Watch Closely Now." Once the song ended, Celine tried to hold back the tears, however she couldn't help but get emotional when addressing the audience

In keeping with her word, Dion is continuing a tradition she would do with her husband before every show. The insider shares that Celine had a mold made of her husband's hand and had it covered in gold to continue the ritual of holding hands before hitting the stage. Dion held the cast of her husband's hand, which will stay in Vegas, before taking the stage tonight. Friends and family gathered last month to hold a Celebration of Life memorial in honor of Angélil at The Colosseum at Caesars Palace in Las Vegas. Although the "Power of Love" songstress originally had no plans to talk or perform, Dion changed her mind at the last minute.

"This is my home away from home," a tearful Dion said. "At the same time I'm supposed to feel extremely comfortable being home and right now I'm not sure how comfortable I feel." She also made a point to thank those who had paid tribute to Angélil, saying, "I feel his love in this room. I feel his strength and his warmth being reflected in all of you. René always surrounded me with the best people who believed in us and always worked so hard on our behalf."