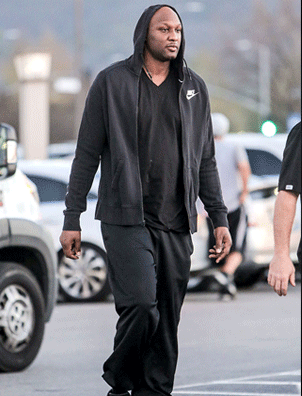 Lamar Odom Continues to Show Signs of Recovery While Stepping Out at Neighborhood Grocery Store
The former NBA star appeared healthy and in good spirits while grocery shopping in Calabasas on Friday.

Odom, 36, wore a black hooded sweatshirt, black T-shirt and black sweatpants for the outing, which marks the second time he has been spotted out and about since making his first post-coma public appearance at Kanye West'sYeezy Season 3 fashion show in New York City.

Odom joined the entire Kardashian-Jenner crew for the event at N.Y.C.'s Madison Square Garden on Feb. 11.

The pro athlete, who was hospitalized on Oct. 13 after being found unconscious in a Nevada brothel, has been making great strides in his recovery.

"Lamar's recovery is remarkable. Even with all the sophisticated medical technology, it has been impossible to predict his outcome,". "Lamar was in very, very bad shape. Both physically and cognitively. There is only so much help that someone can receive.

"In Lamar's case, it's very much his own physical strength and all of his hard work in therapy that has paid off," the source continued. "He also has the mindset of a professional athlete. He never once gave up."