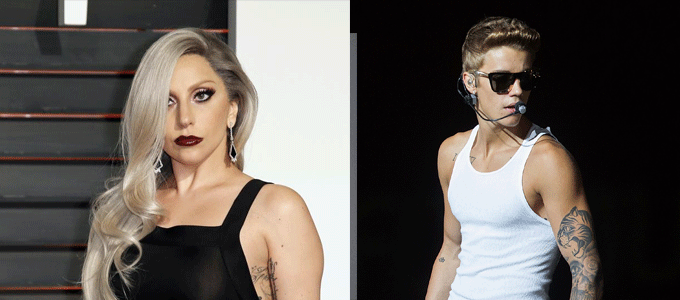 Lady Gaga, Justin Bieber & Ellen DeGeneres. Saint Laurent Fashion Show in Hollywood
Saint Laurent creative designer Heidi Slimane hosted a star-studded fashion show at the Palladium for a guest list that included Lady Gaga, Justin Bieber, Ellen DeGeneres, Portia De Rossi, Zac Efron, Sylvester Stallone, Lily Collins, Emma Roberts, Demi Moore, Jane Fonda, Rosie Huntington-Whiteley, Sam Smith, Lenny Kravitz, Zoë Kravitz, Courtney Love, Miranda Kerr and Tobey Maguire.

Pamela Anderson was also there with sons Brandon Lee and Dylan Lee. Eighteen-year-old Dylan stars in Saint Laurent's new ad campaign. Slimane showed 93 looks on 71 models. Inspired by Los Angeles' music scene, the show coincided with the upcoming Grammys.

Gaga's hair was a mop top of loose blonde curls. She wore a gold bomber jacket and black pants. Before the show began, she chatted with Bieber while downing some champagne at the bar.

"Leave him alone," Gaga joked with photographers as she hugged Bieber. "He's just a little boy."

The Biebs made his way around the Palladium to chat with DeGeneres, Lenny Kravitz and Stallone and was seated between rock legend Joan Jett and musicianBeck for the show. The after party, which included a hamburger stand, promised performances by Jett and Beck as well as Father John Misty and about a dozen indie rock bands. "We have lots of Saint Laurent," DeGeneres told me. "Lots of shoes, lots of bags and lots of clothes."

While DeGeneres and De Rossi took off shortly after the show ended because De Rossi had to be up at 2:30 a.m. for an appearance on Good Morning America, Huntington-Whiteley was excited to hear that the festivities were set to go until 4 a.m. "We love that in L.A.," the Mad Max: Fury Road actress said. "Nothing goes to 4 a.m. in L.A."

Elle Fanning, who looked fab in a glittery dress and matching eye makeup and attended the show with her sister Dakota Fanning, raved about the show, "It was beautiful. It was amazing. I love Saint Laurent."