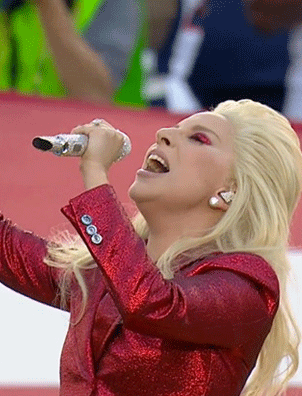 Lady Gaga Dancing Her Heart
Changing out of her Gucci red suit, Mother Monster donned a black crop top and pants during the game and made sure to dance her heart out while Coldplay,Beyoncé and Bruno Mars dominated the field and the stage during the PepsiHalftime Show. Standing in the bleachers to take in some classic pigskin, Gaga toned down her makeup and upped her moves while she rocked out with her heart out to the epic trio down below.

Vines that caught her amazing moves immediately went viral, allowing everyone to see her go all out. Even Marcia Gay Harden caught Gaga letting loose during the show and tweeted, "Just a little danceparty @ladygaga #brunomarsbox on what planet am i?"

Little did Mars know that his biggest fan was a Monster. But let's be real, who can resist the power of "Uptown Funk"? Not us and certainly not the "Bad Romance" songstress.

It's Gaga's world and we're just living in it. But seriously, 2016 is Gaga's year. Sh ewon a Golden Globe and she's nominated for an Academy Award. She's also performing a tribute for David Bowie at the Grammys and, like we said, crushed the National Anthem. Is there anything she can't do?! She also happens to be engaged to hunk Taylor Kinney, so she pretty much is living her best life these days.