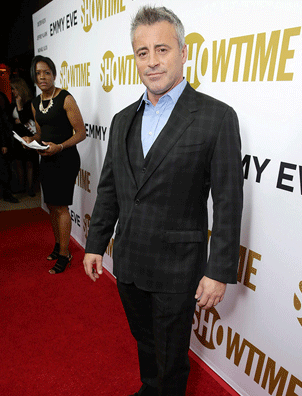 Matt LeBlanc Talks Candidly About the "Dark Time"
Week after week, Matt LeBlanc had no trouble bringing the laughs unforgettable series Friends. In fact, playing the fan-favorite Joey Tribbiani for more than 230 episodes helped the actor earn huge success financially and professionally. But in a revealing new interview, the actor is opening up about a time in his life that was no laughing matter. Instead of being seen out and about on the Hollywood scene, Matt desperately wanted to stay far away from the camera and spotlight.

"For years and years, I barely left the house," he shared with the Mirror. "I was burnt out. I wanted to not have a schedule, not be somewhere. I was in a position to do that." He continued, "My agent was bummed. Most actors call their agents and say, 'What's going on?' I'd call mine and say, 'Please lose my number for a few years.' It was a very dark time. I almost had a nervous breakdown."

Life got even more difficult when his marriage to model Melissa McKnight began to struggle. In addition, his daughter was diagnosed with cortical dysplasia, a condition that can affect the brain, bones and motor skills.

"My daughter was diagnosed with a problem with her head. It was a very dark period," he shared with the U.K. publication. "But I got through it. Don't they say what doesn't kill us makes us stronger?" Marina is now 11 years old and was fortunate enough to outgrow her medical condition. As a result, father-daughter dates that include horseback riding, hiking and breakfast dates are cherished even more.

"Spending time with her is the best thing I've ever done," the new host of Top Gearexplained. "We have a great bond and it's the best thing in my life."