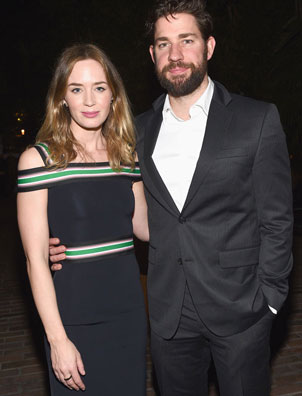 Emily Blunt Is Pregnant, She and Husband John Krasinski Expecting Second Child
She and the 13 Hours star tied the knot in July 2010 and announced they were expecting their first child three years later in September 2013. They welcomed their adorable daughter in February 2014.

The couple keeps their daughter out of the spotlight, preferring to maintain some privacy when it comes to their family life. But sometimes they'll give us little nuggets about their 1-year-old. Krasinski recently appeared on The Ellen DeGeneres Show where he opened up about his little girl.

"She is talking. She's talking a lot," he said. "She's starting to do little bits, which is hilarious. Like if she's looking for me instead of saying, 'Daddy, Daddy,' she says, 'Where is that daddy?' And she's starting to pick up on Emily's accent."

We can only imagine how hilarious their second child will be with a funny older sister like that! Blunt took a more serious tone when opening up about her daughter at the Golden Hearts Awards in October. The event, co-chaired by Anna Wintour and Michael Kors, celebrated those who are involved with God's Love We Deliver, which is the New York City metropolitan area's leading provider of nutritious, individually-tailored meals to people who are too ill to shop or cook for themselves.

"I don't have to think about it when it comes to feeding my child. It's not something that even occurs to me, that I wouldn't be able to afford something to buy her something to eat," said Blunt. "When she's hungry, I have something to give her. When she cries, I have something to give her, and if you don't have that ability, I can't imagine what that would feel like."