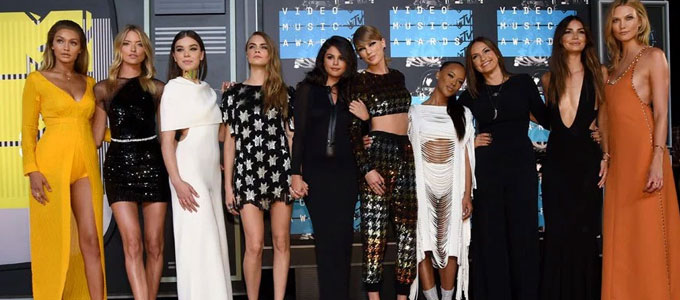 Karlie Kloss Reveals What It Was Really Like To be a Celebrity Guest During Taylor Swift's1989 Tour
There's no denying that one of the best parts of Taylor Swift's momentous "1989" tour was the special guest appearances. Tay made it a point to bring out her famous friends, rappers, rockers, as well as men and women of the moment (The U.S. Womens Soccer Team, Serena Williams) on every tour stop along the way this year.

And while most Swift fans will never get to experience the backstage mayhem and catwalk pandemonium that comes when you're Taylor's surprise guest for the night, thanks to this stealth camera video captured by supermodel Karlie Kloss, those of us at home can get a sense of what it's like.

Kloss shot this backstage video guerrilla-style when she, Gigi Hadid, Kendall Jenner, Serena Williams, Martha Hunt, and Cara Delevingne walked out for an ultimate squad goals moment this past summer during Taylor's London tour stop at Hyde Park stadium. Notice how Taylor walks her friends through the onstage procedure using nail polishes and a towel, but that the women never actually practice their catwalk. "Do not fall down the elevator vault," Taylor warns at the end of the demo. Easy for her to say.

Fast forward to the big night and Karlie shows us exactly how the surprise goes down. First Taylor gives a last minute pep talk, makes sure Cara has her British flag and pops back up onstage. Then, just as the girls planned, each pair gets on the elevator and is greeted with roars from the crowd. The whole operation is pretty cool. And luckily, no one fell down the elevator vault. That would've been bad.