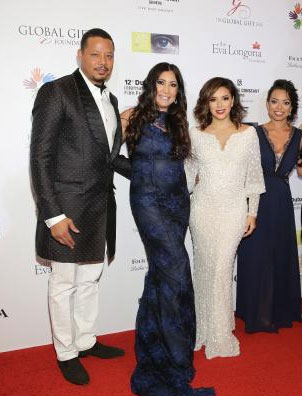 Dubai International Film Festival and Dubai Cares present The Global Gift Gala
Dubai, UAE – 13 December 2015: Dubai International Film Festival (DIFF) and Dubai Cares presented The Global Gift Gala, an event whose beneficiaries include Dubai Cares, The Eva Longoria Foundation, Sunrise K' Foundation and The Global Gift Foundation.

The third edition of The Global Gift Gala was held in Dubai on the 12th of December at The Four Seasons Resort at Jumeirah Beach, hosted by actress, philanthropist and Honorary Chair, Eva Longoria alongside The Global Gift founders, Maria Bravo and Alina Peralta.

This year, organizations that benefitted from the gala included Dubai Cares, a UAE-based global philanthropic organization working to improve children's access to quality education in developing countries; The Eva Longoria Foundation, which focuses on women's education and entrepreneurship;; Sunrise K, which focuses on raising awareness against glaucoma; as well as the Global Gift Foundation with the opening of their first 'CASA GLOBAL GIFT' for special needs children, whilst also providing medical treatments and therapy for children affected by rare disease.

The event welcomed more than 250 guests, including international and local celebrities, philanthropists such as Mohammed Al Ansari, AbdulHamid Juma, Chairman of Dubai International Film Festival, Tariq Al Gurg, Chief Executive Officer of Dubai Cares, American actors Richard Dreyfuss, Michael B. Jordan, Terrence Howard, E! News co-anchor Terrence J and British star Rupert Everett.

Television and radio presenter, Tom Urquhart and Emirati film director, Nayla Al Khaja, hosted the evening. They welcomed to the stage Tariq Al Gurg from Dubai Cares to kick-start the evening; along with founders of the Global Gift Foundation; Alina Peralta and Maria Bravo, Eva Longoria from Eva Longoria Foundation and Joanna Dogmach with Dalia Dogmoch Soubra from Sunrise K Foundation.

The evening continued with performances from Palestinian singer, Omar, American actor from the TV hit series "Empire" and signer, Terrence Howard.

This year, the charity gala raised over AED 1.1 million ($300,000) through generous donations during the live auction conducted by Christies auctioneer Hugh Edmeades. Auction items included: - The Eva Longoria Telenova Experience – Exclusive access to the Universal Studios Backlot in Hollywood, California, to visit the set of NBC's new hit comedy, "Telenovela" for a behind the scenes look and lunch with Eva Longoria, herself

- The Diana Award Experience – An exclusive tour given personally by Lord Spencer, the elder brother of Diana, Princess of Wales followed by afternoon tea at Althorp House in Northamptonshire, England - Milan Fashion Experience – Two nights in Verona with exclusive catwalk access, topped off with a couture dress gifted by Italian fashion designer, Antonio Riva - Rioja Get Away – Two business class flights to Rioja, Spain to stay at the famous Marques de Riscal Five Star Hotel - Frederique Constant Watches for Him & Her – Two stunning Rose Gold wrist watches by premium watch designer, Frederique Constant - Other prizes included a U2 signed guitar display, a Bruce Springsteen and E Street Band signed guitar, 56th Golden Globe Award programme signed by Tom Hanks, Robin Williams, Jack Nicholson and John Travolta, and a designer TODS bag all generously donated by Charity Stars.

The evening also honored Mr. Ghassan Aboud with the Global Gift Philanthropist who through his business success and business knowledge, set out to help those most in need. To date, through his foundation, Orient for Human Relief, over 1.4 million Syrian citizens and refugees have been given direct aid, through the establishment of free hospitals, free schools, the creation of jobs and shelters.