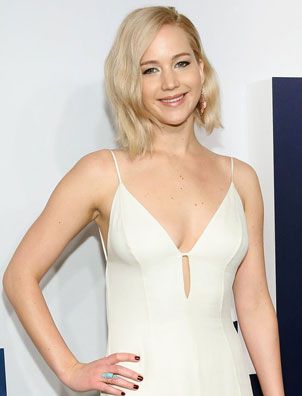 Jennifer Lawrence and Bradley Cooper Bring Their Parents Along For a Big Premiere
Bradley Cooper and Jennifer Lawrence had the support of their parents for the NYC premiere of Joy on Sunday night. The Golden Globe-nominated actress was photographed leaving her hotel with her father, Gary, and though she posed for photos on the red carpet solo in a slinky white gown, it's likely that they reunited inside to watch the film. Bradley Cooper, who also stars in the David O. Russell comedy-drama, was accompanied by his lovely mother Gloria Campano; the pair smiled for the cameras just days after they were spotted taking a stroll through the city together wearing matching plaid outfits.

The premiere also brought out Robert de Niro and his wife, Grace Hightower, as well as Elizabeth Rohm, Orange Is the New Black star Dascha Polanco, and the real-life Joy Mangano, who Jennifer portrays in the film. Keep reading to see all the event photos, then watch the trailer for Joy before its release on Christmas Day.