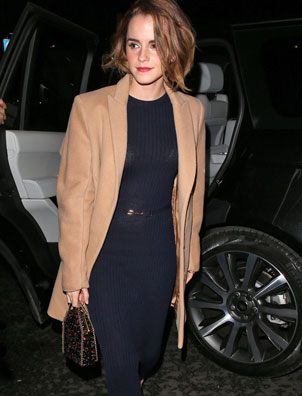 Emma Watson Chopped Her Hair Again, but It's Not a Pixie Cut This Time
The Harry Potter star first chopped her locks in 2010 after wrapping the fantasy franchise and continued to don the pixie cut for a little while. After some time, however, she chose to grow it out and wore her hair at a moderately long length...until now.

The Beauty and the Beast actress has surprised us once again by cutting her off, but it's not a pixie cut this time! She has chosen a trendy bob to frame her face this time around, and it looks awesome. She obviously can pull off any hairstyle she chooses. Her publicist shared a picture of her (and her new 'do) on Twitter and wrote, "Amazing woman. Amazing new hair."

In addition to her shorter hair, it looks like she also might have dyed it a shade or two lighters, but it also could just be the lighting of the picture. When Watson isn't making waves with her hair, she's busy filming or making groundbreaking speeches on feminism at the United Nations for the HeForShe gender equality campaign. Shortly before it was time for her to make her speech, she was asked not to use the word "feminism" because people felt it would be alienating. But after spending more than a decade dressing up in character, Watson decided to stand up for herself, take a stand and use the word.

"[I've] spent more than half of my life pretending to be someone else. While my contemporaries were dyeing their hair and figuring out who they were, I was figuring out who Hermione was and how best to portray her," Watson recalled inPorter magazine.

"Now at 25, for the first time in my life I feel like I have a sense of self that I'm comfortable with. I actually do have things that I want to say and I want to be my most authentic self."

And that all begins with a fresh new 'do to remind people that she's Emma Watson and not Hermione Granger.