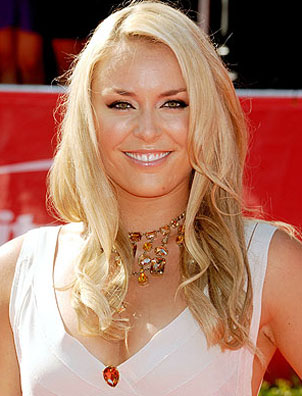 Lindsey Vonn Suffers Bloody Dog Bite
Olympic skier Lindsey Vonn found herself in the hospital this weekend when she tried to break up a dog fight in Colorado.

In an Instagram video, Vonn showed off her bloody hand that was caused by a tussle between her own pets. "Tried to break up my dogs fighting over a frisbee and this is what I get...an amazing @jimmyfallon belated Halloween costume!" shewrote. "Thx @leoandbearvonn. Thx Dr. Viola for fixing me!!!"

From the looks of things, Vonn ultimately needed a few stitches to stop the bleeding and pain.

As for the Fallon comparison, The Tonight Show host recently made headlines when he tripped and fell when accepting an award at Harvard University. He later shared a picture of his hand with the caption, "Nothing that a few band aids couldn't fix."

Back in June, Fallon also had to have minor surgery after injuring his hand at a Manhattan apartment.

Fast-forward to today and the late-night host had no trouble poking fun at himself when he sent well wishes to the athlete. All jokes aside, the Lindsey Vonn Foundation founder appeared to be in good spirits Sunday afternoon when she hit the slopes for another ride down the hills.

"Dog bite is fine," she wrote with a thumbs up emoji as a friend captured her skiing down the mountain. In other words, she handled it like a pro!