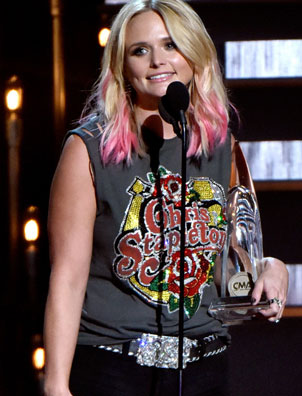 Miranda Lambert Opens Up After Big CMA Awards Win
The country singer, 31, gave a show-stopping performance at the CMA Awards in Nashville, rocking out to her new single "Bathroom Sink."

Lambert – who flaunted her smokin'-hot figure in tight black pants, a Chris Stapleton graphic tee and heeled boots and earlier in the night, a tight black dress – also went on to win Female Vocalist of the Year.

"Hi guys, thank you so much," Lambert said during her acceptance speech.

In a seeming nod to her divorce this summer from ex Blake Shelton (who was not in the audience during her speech) she continued: "Man, I appreciate it. I needed a bright spot this year, so thank you. I love country music fans, and I'm just gonna keep it short, but Justin Timberlake and Chris Stapleton, thank you very much. I'm gonna go home and practice. Thank y'all very much, I love y'all."

It was Lambert's sixth consecutive year winning the award.