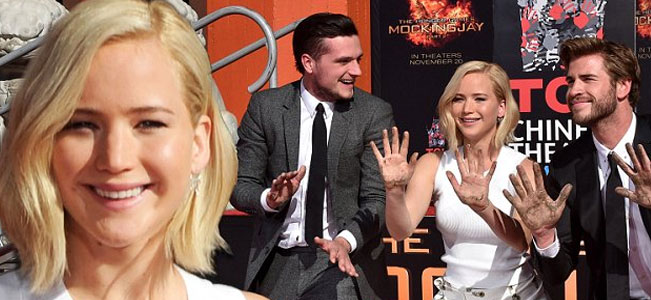 Jennifer Lawrence Recalls Final Moments Playing Katniss
As the anticipation continues to build for the release of the final film in The Hunger Games franchise, Jennifer Lawrence, Josh Hutcherson and Liam Hemsworthfound a reason to celebrate this Halloween when they participated in a handprint ceremony at the TCL Chinese Theatre in Hollywood.

"I'm very grateful," Lawrence shared with the crowd. "I think I can say that on behalf of everyone here for the Hunger Games, I can't remember your names. I'm just kidding, I know your names. Anyway, Liam?" Hemsworth added, "I'm going to say to you guys that I'm honored to share it with you. Let's just be friends forever." The three co-stars would sign their names, place their hands and feet in the cement and give a few autographs for fans before leaving.

Later on in the afternoon, the trio traveled to a press conference for the upcoming film before its release on Nov. 20. While answering questions from reporters at the Four Seasons Hotel, Lawrence was asked to reminiscence about her final moments as Katniss.

"I feel that I had two endings with Katniss. One when we wrapped the film in Berlin and that was kind of saying goodbye to the movie and then I had a moment with my nephews about a year later," she explained. "They played my children in the scene that we shot so it was an amazing closure to this character that I've loved for so many years to have my family there, my blood family, I got to say goodbye to both."

While the cast agrees that the end likely won't sink in until the film comes out, Lawrence is proud of the character she was able to portray. "I feel the impact of being part of such a huge movie that has meant so much for so many people," she shared. "This character is overwhelmingly supportive of women, obviously, and this iconic, I don't feel a personal impact, I think if you ever become aware of that it takes away from that a little bit, it's the movie, and the characters…it's kind of like your avatar self."