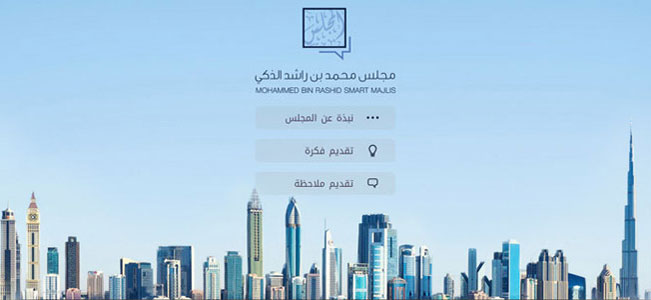 Mohammed bin Rashid Smart Council launched
Mohammed bin Rashid Smart Council launched

His Highness Sheikh Mohammed bin Rashid Al Maktoum, Vice President and Prime Minister of the United Arab Emirates and Ruler of Dubai has launched "Mohammed Bin Rashid Smart Majlis", the largest smart and integrated platform in Dubai connecting 30 entities that will receive suggestions, comments, and ideas on which brainstorming sessions will be conducted. The Smart Majlis will operate under His Highness Sheikh Mohammed's direct supervision.

Sheikh Mohammed bin Rashid Al Maktoum said: "Our doors are and will remain open, communication channels are open, and today we add a new channel, and a new Majlis to combine different Government entities to receive ideas, suggestions and comments. Our target is to make Dubai the smartest and fastest developing city worldwide with the assistance of UAE Nationals, residents, visitors, and all of Dubai's fans.

Our target is to give all members of society the opportunity to attend our Majlis and to present their ideas and comments, consult together and work hand in hand to promote the development process, which should be accomplished with the efforts of every individual. This can only be implemented if we integrate the traditional idea of the Majlis with advanced technology, which will allow everyone in Dubai and its fans around the world to contribute to the development process 24/7. Ideas are not exclusive to a chosen few, as much as they are not limited to a specific period of time."

Sheikh Mohammed bin Rashid Al Maktoum stressed on adopting modern and advanced technology to raise the quality of life for everyone. His Highness also noted that he would personally follow the innovative ideas presented to the smart Majlis.

"Mohammed bin Rashid Smart Majlis" consists of three basic sections. The first section offers residents and visitors of Dubai and its fans around the world the opportunity to present innovative ideas that can contribute to the development of the city and enhancing its attractiveness in various fields. This is made possible through a simple process that ensures that the submitted idea is evaluated by competent authorities.

The second section provides the public with the opportunity to give feedback on whether there are any defects or faults in various facilities such as parks, beaches and roads by photographing such defects and specifying their geographical locations, thus enabling competent authorities to identify them and adopt all measures necessary to help maintain the good image of the city and its public facilities.

The third section is concerned with brainstorming exercises regarding various issues raised by His Highness from time to time in the Smart Majlis. This enables the public to submit their views and interact. In addition, the Majlis allows its users to follow up on the progress of their ideas and comments, as this information is updated periodically by the competent authorities. The "Mohammed bin Rashid Smart Majlis" forms a network that connects more than 30 entities. There are dedicated specialised teams that will work on tracking the ideas and comments in different areas.

The "Mohammed bin Rashid Smart Majlis" aims to achieve a number of objectives all revolving around promoting innovative communication between His Highness and all segments of the society, paving the way for everyone to offer their ideas and comments, in addition to hosting debates on various topics. The interaction will enrich the development process and generate collective contributions. The "Mohammed bin Rashid Smart Majlis" further encompasses a set of pillars that focus on collective thinking, openness to various developmental fields, effective follow-up of ideas and comments, belief in the value and impact of ideas, and promoting the concept of creative "outside the box" thinking.