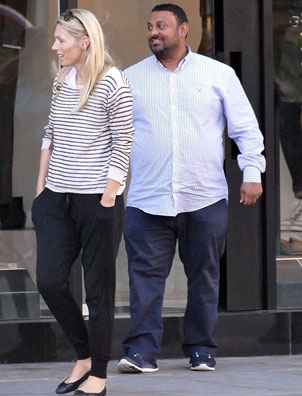 Ex-Boxing Champ Prince Naseem Looks Almost Unrecognisible
He was famous for his flamboyant entrances to the boxing ring and his lightning-speed fighting style.

But former featherweight champ Prince Naseem Hamed looked almost unrecognisable as he enjoyed a day out with his wife Eleasha in London this week.

The 41-year-old has piled on the pounds since his boxing hey-day following his retirement at the age of 28.

Strolling down the street in Knightsbridge, Prince Naseem appeared in high spirits as he playfully put on a PDA with his partner of 20 years. The portly ex-sportsman wrapped his arms around Eleasha.

The slim blonde - who became his wife in 1998 - kept her hands in her pockets and a smile on her face as he swept her into a hug.

The Sheffield-born fighter's appearance will come as a shock to fans who fondly remember his self-assured boldness before and during his bouts in the ring.

His most notorious entrances included him flying over an arena on a flying carpet, driving up in a car, being carried on a palanquin and re-enacting Michael Jackson's thriller video.

Prince Naseem - who stands at only 5 ft 4 and weighed less than 10 stone in his hey-day - was also renowned for somersaulting his way into the ring.

He became Britain's youngest world champion in 1995 aged just 21, winning 36 of his 37 professional fights, losing only to Marco Antonio Berrera in 2001. The sportsman first started piling on the pounds after he was involved in a serious car accident in 2006. He was jailed for causing the 90-mph three-car collision, in which another driver suffered fractures to every major bone in his body.

The star left prison after 16 weeks looking noticeably bigger. Following his retirement from the sport he oversees a management company with offices in LA and London.