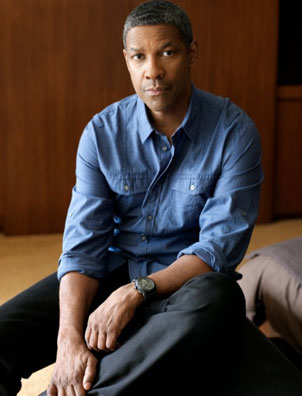 Denzel Washington One of the Most Beautiful People in the World
Denzel Hayes Washington, Jr. was born on December 28, 1954 in Mount Vernon, New York. He is the middle of three children of a beautician mother, Lennis (Lowe), from Georgia, and a Pentecostal minister father, Denzel Washington, Sr., from Virginia.

Denzel is named after his father who was in turn named after the doctor, Doctor Denzel, who had delivered him.

Date of Birth 28 December 1954, Mount Vernon, New York, USA

Birth Name Denzel Hayes Washington Jr.

Nickname D

Height 6' 1" (1.85 m)

His father was a Pentecostal minister; his mother a beautician and former gospel singer. They divorced when he was 14.

Denzel Washington Named by People magazine as one of the 50 Most Beautiful People in the World. And Chosen as People magazine's Sexiest Man Alive (1996). Is the first African-American actor to receive two Academy Awards.



After graduating from high school, Denzel enrolled at Fordham University, intent on a career in journalism. However, he caught the acting bug while appearing in student drama productions and, upon graduation, he moved to San Francisco and enrolled at the American Conservatory Theater. He left A.C.T. after only one year to seek work as an actor.

His first paid acting role was in a summer stock theater stage production in St. Mary's City, Maryland. The play was "Wings of the Morning", which is about the founding of the colony of Maryland (now the state of Maryland) and the early days of the Maryland colonial assembly (a legislative body).

He played the part of a real historical character, Mathias Da Sousa, although much of the dialogue was created. Afterwards he began to pursue screen roles in earnest. With his acting versatility and powerful sexual presence, he had no difficulty finding work in numerous television productions.

He made his first big screen appearance in Carbon Copy (1981) with George Segal. Through the 1980s, he worked in both movies and television and was chosen for the plum role of Dr. Philip Chandler in NBC's hit medical series St. Elsewhere (1982), a role that he would play for six years. In 1989, his film career began to take precedence when he won the Oscar for Best Supporting Actor for his portrayal of Tripp, the runaway slave in Edward Zwick's powerful historical masterpiece Glory (1989).

Through the 1990s, Denzel co-starred in such big budget productions as The Pelican Brief (1993), Philadelphia (1993), Crimson Tide (1995), The Preacher's Wife (1996) and Courage Under Fire (1996), a role for which he was paid $10 million. His work in critically-acclaimed films continued simultaneously, with roles in Malcolm X (1992) and The Hurricane (1999) garnering him Oscar nominations for Best Actor, before he finally won that statuette in 2002 for his lead role in Training Day (2001).

He continued to define his onscreen persona as the tough, no-nonsense hero through the 2000s in films like Inside Man (2006), The Book of Eli (2010), The Taking of Pelham 1 2 3 (2009) and Safe House (2012).