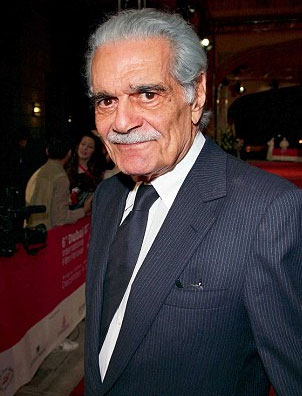 Omar Sharif Died After Suffering a Heart Attack in Cairo
Even in his final years, Omar Sharif never forgot how his mother smacked his backside with a slipper every day until he was 14.

Although the star of Doctor Zhivago, Funny Girl and Lawrence Of Arabia brought a smouldering screen intensity that captivated some of the world's most beautiful women, one can understand his mother's frustration. The dashing Egyptian film star with the mournful gap-toothed smile could be a very naughty boy.

Sharif died yesterday at the age of 83 after suffering a heart attack in Cairo. In May, his son had revealed how the star had been suffering from Alzheimer's Disease.

It was a sad finale for a rootless, lonely actor who, in later life, spent decades in hotels in London and Paris, finally returning to Egypt (where he also lived in a hotel), presumably so he could die in his homeland.

Although he was certainly not lacking in self-belief, he was the first to admit that he had squandered his life and career, throwing away the early promise he showed for the easier pleasures of carousing and gambling.

He and his Lawrence Of Arabia co-star, Peter O'Toole, were two of the greatest Hollywood hell-raisers of their generation. But to wining and womanising, Sharif added a third vice he had inherited specifically from his mother.

He became an inveterate gambler, touring the casino tables of Europe, frittering away his fortune which he had to replenish by taking uninspiring roles as the 'foreign gentleman' or 'exotic lover' in a string of forgettable films.

Sharif eventually gave up on acting, becoming a world-class bridge player and largely devoting his life to gambling instead. 'I'd rather be playing bridge than making a bad movie,' Sharif once declared in his defence.

Critics might have noted that if only he had applied himself to acting, the talented performer — who could act in six languages — might have spent his life making 'good' movies.

Instead, he lived in Paris because he could enjoy the city's casinos and the nearby racetrack at Deauville. He gave up roulette after losing £750,000 in a single night, but continued to leach money as only a gambling addict knows how. Psychiatrists might have seen trouble ahead from Sharif's earliest years.