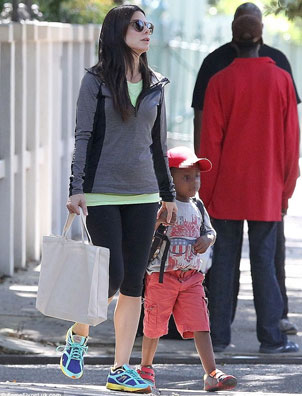 Sandra Bullock: "I'm in Love!"
Sandra Bullock's latest silver screen project is the animated blockbuster Minions.

And it's no coincidence that her latest movie is one for the kids, as on Tuesday she revealed on radio show Hughesy and Kate that her life is 'all about' her son Louis.

Appearing on the KIIS Network's drive show the 50-year-old was asked if she was in love with anyone, to which she replied replied: "Yes. He's five and a half."

"Is it Louis?" Co-host Kate Langbroek asked, to which the Gravity actress gave a heartfelt "yeah."

"When he's off to college we'll divert my attention to something else, but right now it's all about Lou," she said dotingly.

Sandra adopted the youngster in 2010 with her ex-husband Jesse G. James, but has raised him as a single parent after the pair split later that year.

The two broke up after infidelity from Jesse, with the actress later telling the Daily Mirror: "You don't think [heartbreak] will pass when you're in the middle of it, but it does. I'm so lucky to have what I have. I have a beautiful child."

Sandra made quite the impact at the world premiere on the film in London earlier this month.

She cut a sensational figure in a little black dress with a stylish asymmetric peplum-style skirt over the top while posing on the unique yellow carpet for the big night.

The figure-hugging silver Stella McCartney brocade dress clung to her slender figure to a tee, before the skirt kicked out over the shorter black underlay, allowed her to flash her famous lean legs. Minions is a prequel to the wildly popular Despicable Me series, and has Sandra voice acting across Pierre Coffin and John Hamm.