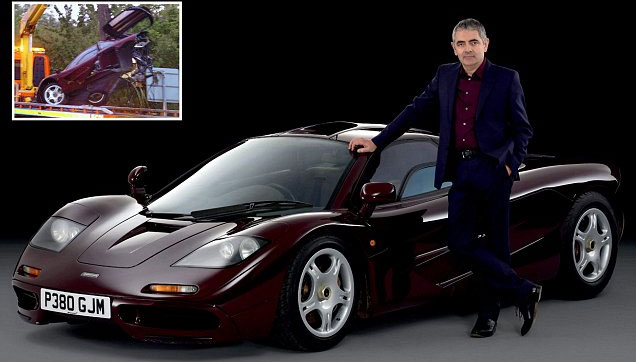 Rowan Atkinson Sells His McLaren F1, Even Though He Crashed It TWICE
It may be 18 years old having covered 41,000 miles and been involved in two almighty crashes.

But that has not deterred a petrol head from splashing out £8million on a prized McLaren F1 supercar belonging to Rowan Atkinson.

The Mr Bean actor bought his beloved McLaren in 1997 for around £640,000 - making a tidy £7.3m profit on the motor.

This makes it one of the highest prices ever forked out for a car in the UK, with only 1960s Ferraris tending to fetch more.

It commanded the lucrative fee despite Atkinson, a car fanatic, crashing it twice.

The 60-year-old, first pranged the three-seater by ploughing into the back of a Rover Metro on the A6 at Forton, Lancashire, in October 1999.

Then in 2011 he lost control on a slippery bend of the A605 near Peterborough and smashed into a tree.

He escaped from the wreckage with a broken shoulder, but most of the car was destroyed, while the 6.1litre engine ended up 60 feet away.

That second crash ended in what is thought to be Britain's highest ever single car insurance payout, with the vehicle costing £900,000 to be rebuilt by McLaren. It also put up his annual insurance to an estimated £60,000.

But it seems the accidents may have actually added to the value of the F1, which was one of only 64 ever built.

Atkinson put it on the market for £8million with specialist car dealer Taylor & Crawley, owned by David Clark, formerly a director at McLaren.

Mr Clark confirmed the car with the 'interesting history' had now been sold.

He said: "Everyone is very pleased with the sale. There was interest from around the world and it has gone to a British buyer who will drive it like Rowan did."

"It is one of the biggest ever deals in the UK. Rowan is pleased, but also maybe a bit sad as he did 40,000 miles in it."

Atkinson, who last year split from his wife of 23 years, Sunetra, said he had never seen the car as an investment.

When he put it up for sale, he said: "I bought it for the quality of the thinking that went into its design, and now it has become a thing of value it is time for it to be enjoyed by someone else."