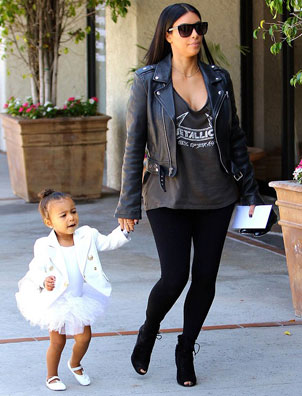 Kim Kardashian is Pregnant!
Kim Kardashian is having another baby.

Kim, 34, dropped the bombshell news right at the end of Sunday's mid-season finale of Keeping Up With The Kardashians on E!

In a teaser clip for the rest of the season, Kim is seen being told she's expecting again during a doctor's appointment.

The excited and happy reality star tells her stunned sister Khloe: "I just got the blood test back, and I am pregnant!"

It's not known how far along Kim is in her pregnancy or when the newest addition to the Kardashian clan is due to make an appearance.

But her younger sister Khloe's reaction when Kim broke the news to her on camera just about said it all.

The 30-year-old gasped out loud and looked completely surprised at the stunning revelation.

The new arrival will be a younger brother or sister for Kim and Kanye's daughter North, who's almost two.

Kim's mom Kris Jenner tweeted her congratulations to the couple and said she can't wait to meet "your new little love bug."

Kim gave birth to her first child on June 15, 2013, and she and Kanye tied the knot on May 24, 2014.

In a sweet social media post at their one year anniversary, the rapper wrote: "Kim, I'm so happy to be married to the girl of my dreams… I love you and Nori so much!!! I would find you in any lifetime."

The brunette beauty has had a difficult time falling pregnant for a second time and has documented her fertility struggles on the reality series.

She and Kanye, 37, have been doing everything possible to have another child.

But on Sunday's episode of KUWTK, she was seen talking about how "exhausted" she is by all the procedures, which included repeated ovulation tests and a biopsy, and said she was close to giving up.