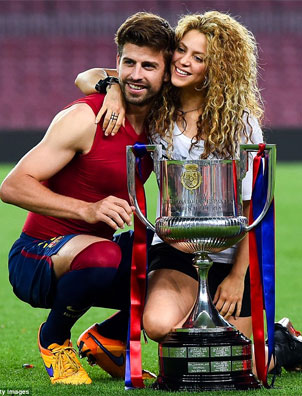 Gerard Piqué Gets a Kiss From Shakira After Barcelona Historic Spanish Cup Victory
Gerard Piqué proved to be a winner both on AND off the pitch after helping his Barcelona teammates secure another historic trophy on Saturday evening.

The Spanish defender was greeted by jubilant girlfriend Shakira following the Catalan giant's comprehensive 3-1 defeat of Athletic Bilbao in the Copa del Rey final.

Posing with the enormous trophy after the game, Gerard, 28, got a kiss from the stunning Colombian pop star – who looked equally delighted with Barcelona's latest triumph.

With an arm draped across his shoulders, Shakira, 38, pulled the footballer close while posing for a snap with Spain's equivalent of the FA Cup.

The couple were without their two children, Milan, two, and fourth-month old Sasha as they celebrate the win, which saw Luis Suarez, Neymer and Linel Messi break the club record for most goals scored by individual strikers during the course of a season.

Youngest son Sasha's name is understood to be of Greek and Russian descent and means "Warrior" and "Defendant of mankind."

The tot was born in the evening at a hospital in Barcelona where Shakira underwent a scheduled Caesarean section.

Shakira and Gerard reserved an entire floor of the Hospital Quirón Teknon in the Spanish city for the birth January.

The baby was delivered by the same doctor and at the same location as their first son, Milan.

The Colombian recording artist and the Spanish centre-back have been together for five years.

They met when he appeared in her music video for her hit single Waka Waka (This Time For Africa) which was the official song for the 2010 FIFA World cup.

Gerard recently celebrated his 300th game appearance with FC Barcelona and was crowned the seventh highest goalscorer for the first team.

In addition he also play for the Spanish national team.