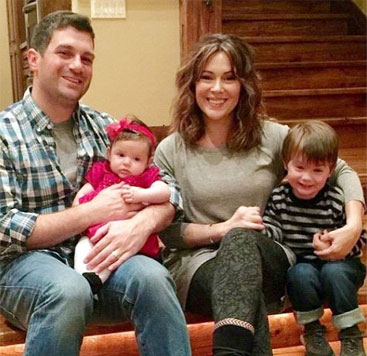 Alyssa Milano Glows As She Cuddles Up to Daughter Elizabella
Alyssa Milano's baby girl Elizabella is clearly the apple of her eye.

On Saturday, the 42-year-old actress Instagrammed an adorable snap with her eight-month-old, in which she beams with love and pride.

The Charmed star captioned it: "Dear Daughter, If I could give you one thing in life, I would give you the ability to see yourself through my eyes."

She bent down and leaned over Elizabella's shoulder for a selfie, as the little girl smiled pleasantly.

Elizabella was seen wearing a dark blue floral garment that matched the colour of her eyes.

The little girl is Alyssa's daughter and second child with her husband, Creative Artists Agency agent David Bugliari, whom she wed in August 2009. The couple also share a three-year-old son, Milo.

The mother-of-two tweeted on Thursday: "Breast feeding mama's! I need you! Bella has decided she should bite my nipple when she feeds! It hurts. A lot. Any tips?"

The actress appeared to be in no rush to bounce back into shape in a recent interview with Yahoo.

"I've had weight fluctuations my whole existence, so I'm just trying to stay healthy, trying to have the endurance to get through the day as a mom of two and not be too sleepy," she said.


Alyssa also made headlines in April when she blasted Heathrow Airport on Twitter after bottles of her breast milk were confiscated by security.
The actress landed in London when she was told she would not be permitted to leave the airport with the milk she had just pumped on board her flight.
"@HeathrowAirport Why can you test my toiletries to make sure they are safe but you have to throw away my breast milk?" Alyssa angrily tweeted.
She reflected on the incident when she told Yahoo, "I think mothers could totally identify with the horror that I watched them pour out 10 ounces of my breast milk."
"If you've ever tried to breastfeed you know that 10 ounces is a lot."