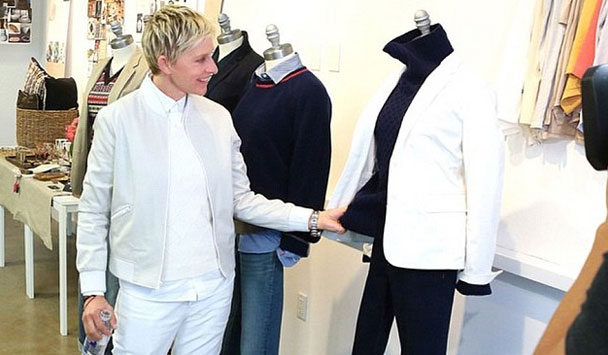 Ellen DeGeneres Set to Release Clothing line That Mirrors Her Unique Style
Ellen DeGeneres has made countless red carpet best-dressed lists and inspired women all over the country to experiment with the less-feminine side of fashion; but until now, dressing like her has involved trips to the menswear side of the stores and some serious tailoring.

Enter: ED by Ellen, the inimitable host's upcoming fashion line, which promises to be everything Ellen wannabes are dreaming of.

"I was having a hard time finding clothes that I felt comfortable in," the star told Refinery29. "I've never found women's clothes that I felt completely comfortable in, the way they were cut. I didn't want to wear men's clothes, and if I did like something, Comme des Garçons or Paul Smith or Dries Van Noten, I would always have to alter it to fit me."

Eventually, Ellen explains, they began making clothes for her on the show. Soon enough, she was seeing members of the crowd "who were coming to the show were trying to dress like me, but those clothes weren't out there."

And it was this that inspired Ellen to bring her own style to the masses with a line that she says is "not extremely feminine, it's not masculine, it's just comfortable."

The name ED, which comes from a combination of the host's initials and a pet name from wife Portia de Rossi, is being used for its non-gendered quality and simply because Ellen did not want her name all over the designs.

The line - which is due to be revealed in full "very soon" according to the website - includes slouchy sweaters, blazers, shorts, bomber jackets and a lot more.

In the new interview with Refinery29, Ellen discusses the evolution of her style, from the fashion faux pas of the 80s through her 'closeted' days when she restricted her style to keep the public from thinking she was gay, all the way to her self-styled, natural look of today.

"We're living in a world where, you know, Bruce Jenner is a woman," she said. "We're learning so much about gender and sexuality and fluidity, and I think that should blend and bleed into the fashion world."