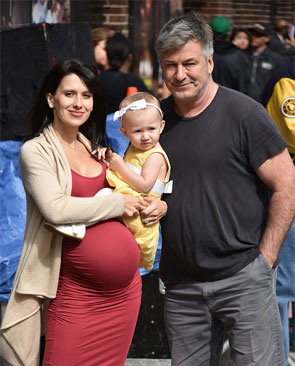 Heavily Pregnant Hilaria Baldwin Dresses Her Baby Bump in a Tight Dress
Hilaria Baldwin's baby boy is due in June.

And while she is just weeks away from her delivery date, the 31-year-old looked about ready to pop as she joined her husband Alec at the Ed Sullivan Theater in New York on Wednesday.

The Spanish beauty wore a skintight dress, accentuating her baby bump, to wish David Letterman a final farewell as he hosted his Late Show for the last time.

Completing the yoga teacher's ensemble was a long cardigan and nude heels as she carried her daughter Carmen, who will turn two years old in August.

The adorable girl wore a white bow in her hair and a lemon yellow sun dress.

Alec, 57, meanwhile, was spotted carrying a wrapped present, presumably for Letterman, as he changed from his street clothes into a suit.

After 33 years and 6,028 broadcasts of his late-night show, Letterman is signing off.

The 68-year-old host will appear on his farewell show on CBS on Wednesday night, which is taping this afternoon at Manhattan's Ed Sullivan Theater and airs at 11:35 pm.

VIPs attending the last show include Jerry Seinfeld and his wife Jessica, who shared a picture of themselves heading to the recording before posing for the cameras outside the studios.

"Late.... to a very important date,' Jessica, 43, posted on Instagram along a photo of herself and her 61-year-old actor husband, who had pulled on a tuxedo for the occasion.

The Foo Fighters are providing musical entertainment and posted a snap from inside the studio.

Leading the way for the boys were Steve Martin and Jim Carrey, along with Denver Broncos star Peyton Manning (Letterman is a big supporter of the NFL team).

Tonight's broadcast promises to be full of surprises and include a run across the stage and his final Top Ten List.

Letterman, famed for his quick wit, sarcasm, offbeat humor, attitude and crazy stunts, hosted Hollywood stars and U.S. presidents in his final weeks of the show before handing the reins to comedian Stephen Colbert.

George Clooney appeared with handcuffs to ensure Letterman would not leave. Comedian Tina Fey stripped off her dress to reveal underwear saying "Bye Dave" and President Barack Obama joked about retirement plans.

Actor Bill Murray, Letterman's first guest on the show, made a final appearance along with singer Bob Dylan on Tuesday night.

"It will be a piece of history," Michael Tidwell of Silver Spring, Maryland said as he waited outside the theater on Wednesday morning.