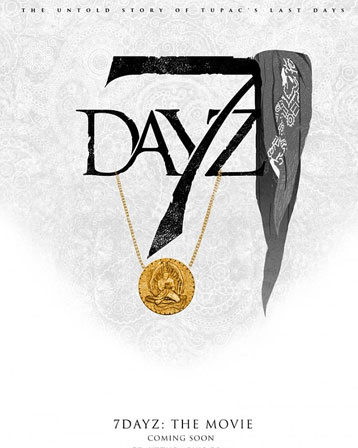 New Film About the Final Days of Tupac Shakur's Life
Tupac Shakur and his final days will be the subject of a pending film seeking online funding by the late rapper's former producing partner.

Gobi Rahimi, 50, has launched an IndieGogo crowdfunding campaign seeking $300,000 for his film 7Dayz that will recount Shakur's last week after being killed in 1996 in a Las Vegas drive-by shooting.

"It's not a movie about Tupac. It's a movie that will have Tupac in it. It's about how he changed my life," Rahimi told Deadline in an article on Monday.

The critically acclaimed rapper who died aged 25 "will play himself" in the feature film, Rahimi said.

"I have archival footage that I shot of him that's never been seen before that will be written into the film," he revealed.

Rahimi produced several of Shakur's music videos for Death Row Records and directed two of his videos including 2 of Amerikaz Most Wanted by 2Pac featuring Snoop Doggy Dogg.

The film will cover the intense period surrounding Shakur's death including dealing with his record label.

"A few weeks before Pac was shot, I wrote the letter that Tupac signed, firing Suge Knight and his lawyer David Kenner. After that, the tension between Tupac and his label soared to new heights," Rahimi wrote on the fundraising page.

"I was waiting for Tupac at club 662 in Las Vegas after the Mike Tyson fight on September 7, 1996. Soon after, I was informed by rapper Nate Dogg that Tupac and Suge Knight had been shot and taken to University Hospital. I immediately rushed there to be by Tupac's side," Rahimi recounted.

"This was the first of an emotional seven days that I sat guard over Tupac who was in an induced coma, riding the line between life and death. 7Dayz is the story of my experience at the hospital amidst death threats, undercover FBI informants and an uncooperative Police Department," he wrote.

At the time of publication, the film had raised $3330 in one day.

Death Row Records co-founder Knight, 50, remains in jail after being charged with murder, attempted murder and hit-and-run over the January death of Terry Carter, 55, and wounding of Cle 'Bone' Sloan, 51, in a parking lot in Compton in January.

Knight was sentenced in February 1997 to prison for violating terms of probation for a previous assault by taking part in a fight at a Las Vegas hotel hours before Shakur was fatally wounded in a drive-by attack.

Shakur was riding in Knight's car just east of the Las Vegas Strip when he was shot and his slaying remains unsolved.

A biopic of Shakur also is in the works with Carl Franklin as the director after replacing John Singleton.

Shakur previously starred in the 1993 drama Poetic Justice that co-starred Janet Jackson and was directed by Singleton.