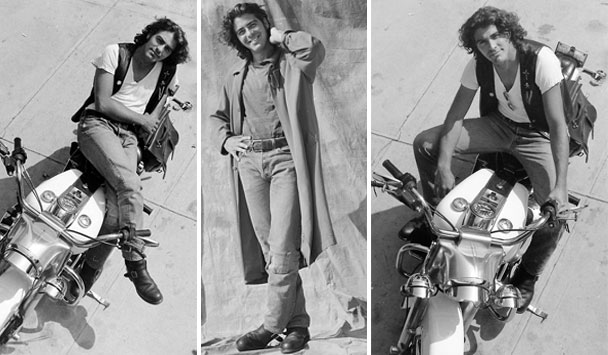 Clooney is Unrecognizable With Long Curly Hair and Side-Burns
He is starring in a movie called Tomorrowland, but his yesteryears seem to be even more interesting.

Photographs of George Clooney as a young unknown actor posing for a promotional shoot in 1989 have been revealed by photographer Kevin Wilkes.

Even though the actor, who is now 54-years-old, had long hair and lambchops, there's no mistaking George's movie star good looks and puppy dog eyes. He was only 28-years-old at the time.

He had landed a role playing a drug dealing surfer in a low budget feature film called Red Surf, which failed to impress audiences.

The black and white pictures were taken five years before he got his big break playing Dr Doug Ross on ER (and never looked back).

The candid snaps show him looking much less the sharply dressed short haired dashing gentleman - as his wild curls are let loose and long - until he ties them back into a slick ponytail for some shots.

The star also has substantial lambchops and is wearing earrings - and has the same glint in his eye as he does now aged 54.

George is wearing jeans in the monochrome photos - taken the year that Taylor Swift was born, the Berlin Wall fell and The Simpson's debuted.

Who could have known that the scruffy star seen posing on a motorcycle, in a beat-up leather jacket and also in a cross-check blazer - would go on to be one of the highest-grossing actors of all time with over $1.9 billion total box office gross?

He co-starred in the flop with Doug Savant - who went on to star as Tom Scarvo in Desperate Housewives and KISS frontman Gene Simmons.

Life has been anything but a flop for George recently - he married Amal Alamuddin last year in Venice, and the pair are rarely seen looking anything less than catwalk ready.

The Academy Award winner is starring in fantasy adventure Tomorrowland, which opens in movie theatres on May 22.