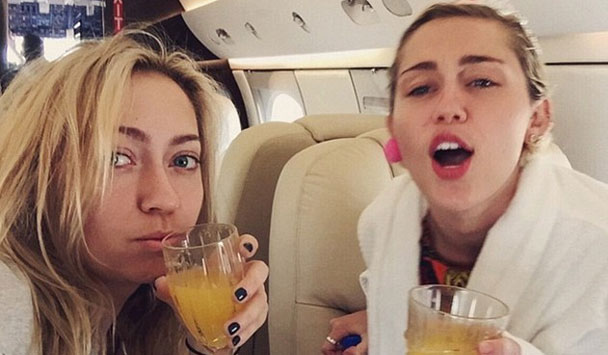 Miley Cyrus Enjoys Some Down Time with Sister Brandi
After championing for her new non-profit The Happy Hippie Foundation the, Miley Cyrus is relishing time with her family.

The 22-year-old left no stone unturned when she shared a series of images from her sun-kissed vacation on Instagram on Saturday.

When Miley and her big sister Brandi, 27, weren't unwinding over a fruity drink, they were paddling into the ocean on a kayak with siblings Noah, 15, and Braison, 21.

"Turnt w bae @brandicyrus," Miley captioned a snap of her with Brandi while seated on a patio.

In another snap, the sisters triumphantly raised their paddles after kayaking into the ocean together.

It seems the popstrel has been enjoying every relaxed moment during her holiday.

The actress gushed about a violet-hued sky on Instagram, referring to the gorgeous view as "a cotton candy sky."

Miley's holiday hasn't been without some excitement, as Brandi revealed the pair have also spent time zipping through the island on a golf cart.

An image of the siblings drinking up their beverages was captioned: "Island dranks + sunset golf cart rides with Sissy."

Brandi also showed off a bit of their family's playful side.

The musician shared a video of the siblings wading from one end of the pool to the next, a brief clip she described as "Classic pool games with the sibs. #vacation."

It has been a busy week for Miley, as she promotes her new non-profit.

The Last Song actress recently teamed up with fellow pop star Ariana Grande to support The Happy Hippie Foundation, which is dedicated to empowering LGBT and homeless youngsters.

The pair recorded a cover of Crowded House's Don't Dream It's Over as a part of her "Backyard Sessions", aimed at aiding her foundation.