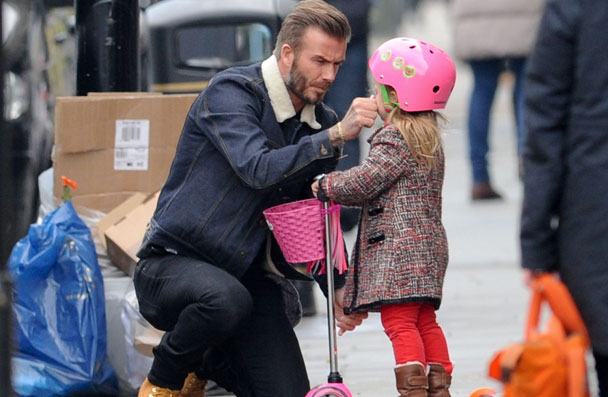 Beckham shares touching snap of himself playing with daughter
Since recently joining Instagram David Beckham has delighted fans with candid photographs of his famous family.

And with his fashion designer wife currently in Singapore, the father-of-four has offered a peek into what life is like when mum's away by sharing an adorable picture of himself with daughter Harper.

While the three-year-old's face is out of the frame her little hand can be seen pinning an earring onto her 40-year-old father.

David shared the snap earlier this week, telling his six million followers: "Harpers not the only princess in the house."

Victoria is currently in Singapore showing off her autumn/winter collection.

The mother-of-four missed out on former Spice Girl Geri Halliwell's country wedding yesterday but shared her congratulations on Instagram with an old picture of the pair from their girl band days.

In a recent interview David said his wife's passion for fashion had sparked Harper's interest.

"The second that Harper walks into the house she'll put on her ballerina outfit and a pair of Victoria heels."

"Harper has been recognised for what she wears but she likes it - she's a funny little thing," the former England captain told Vogue.

Earlier this week the father and daughter were spotted walking hand in hand in leafy Primrose Hill.

David looked typically stylish in a denim shirt and beanie hat as he guided the three-year-old towards their car during a brief outing in the north London suburb.

The sporting icon completed his ensemble with a pair of black jeans and white deck shoes while Aviator sunglasses, casually hooked over the open neck of his shirt, proved to be the only visible accessory.

Beckham and Harper were paying a visit to a local café, where they predictably caught the eye of star-struck patrons while purchasing some ice-cream.

Ever the gent, the ex-England captain was seen chatting to a young mother as she cradled her infant daughter.