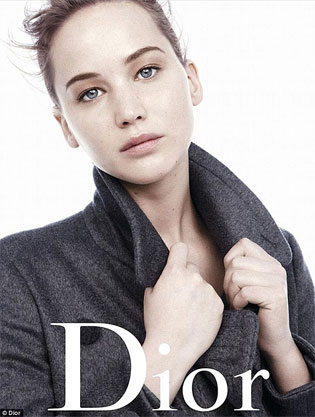 Jennifer Lawrence looks beautiful in simple photoshoot for Dior campaign
First comes fashion, then comes beauty!

Jennifer Lawrence, 24, recently posed for her first-ever Dior beauty campaign, and the newly-released photo is positively gorgeous.

While the Hunger Games actress has starred in ads for the designer in the past, this is the first time she has ventured away from modeling clothes and accessories and moved into the world of blush and mascara.

The first photo released from the campaign perfectly captures Jennifer's girl-next-door appeal, as she poses in natural make-up and models a windswept updo.

The star, who usually keeps her beauty look low-key on the red carpet, is both recognizable and accessible with just hints of blush, a swipe of mascara, and a dab of lipstick.

As the new face of Dior Addict makeup, Jennifer will appear in other print ads for the brand, as well as television commercials.

And she's making bank doing it. Last year, she signed a $15 million contract to continue her partnership with the designer for another three years, two years after originally being signed up by the brand.

The actress' Dior deal also grants her the best access to fresh-off-the-runway designer clothes, and the star is known to wear almost exclusively Dior designs on the red carpet.

In 2013, she famously made Oscar headlines when she accepted her Academy Award - and fell going up the stairs to retrieve it after tripping up while wearing a floor-length Dior Haute Couture gown.

But as beautiful as she is in the new Dior Addict photo, fans shouldn't expect that she looks quite so flawless all the time.

When she starred in her first campaign for Miss Dior in 2013, Jennifer was quick to admit that the glamorous pictures had some help from professional airbrushing.

"I love Photoshop more than anything in the world," she told Access Hollywood at the time. "Of course it's Photoshop; people don't look like that."