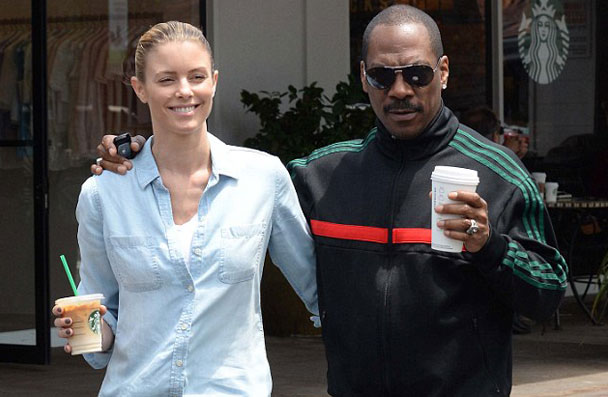 Eddie Murphy Takes Girlfriend Paige Butcher for Their Daily Coffee Run
It has been a tradition throughout their relationship, and Eddie Murphy and girlfriend Paige Butcher are clearly as addicted to Starbucks as ever.

The loved-up couple are regularly spotted making caffeine pilgrimages to their favourite Starbucks in the Beverly Glen shopping center in Beverly Hills, California.

The couple, who met on the set of 2006's Big Momma's House 2, opted for a casual look for their trip to the mall.

Paige, 35, rocked the double-denim looks with a light-blue shirt, half-tucked into her jeans.

The Australian actress and model wore her long blond hair up in a tight pony tail and appeared to have steered clear of makeup.

Eddie went full-casual in a black Adidas tracksuit with green and red stripes, hiding his face behind a pair of sunglasses.

The Saturday Night Live legend has daughters Bria, 25, Shayne, 20, Myles, 22, and daughters Zola, 15 and Bella, 13, with his first wife Nicole Mitchell.

The funnyman also has son Christian, 15, with Tamara Hood and son Eric, 25, with Paulette McNeel, as well as seven-year-old daughter Angel Phoenix with Spice Girl Mel B.

Meanwhile, Eddie is gearing up for the film Cook, a drama set in the 1970s.

He is planning to reprise his role as the lovable Axel Foley in Beverly Hills Cop 4, which has a release date of March 25, 2016.

The actor is also set to play late comedian Richard Pryor's father, LeRoy Pryor, in the upcoming biopic directed by Lee Daniels with Mike Epps playing Richard.