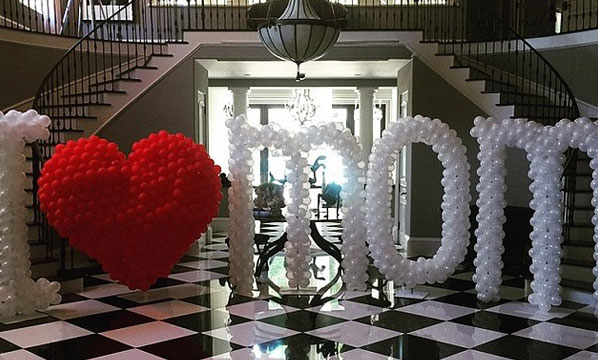 Kris Jenner Gets Spoilt Rotten by Kylie and Kendall with a Balloon Display
She has ruthlessly masterminded lucrative careers for all of her six children.

So it is perhaps not so surprising to see momager Kris Jenner, 59, get showered by praise and affection on Mother's Day.

While she was missing any public word from her troubled son Rob Kardashian, Kris did enjoy tributes from her five daughters, with Kendall and Kylie Jenner winning the prize for spoiling her rotten with a balloon display.

Kris revealed that she had received a beautiful bouquet of white roses from Kendall and Kylie, before coming home to discover the huge balloon scultpure in her home.

She thanked her girls for the flowers, before joking if it meant that they would do the dishes.

Unable to contain her excitement at the balloons, she later posted: "And then THIS arrives!!! Whoa!! Thank you @kendalljenner @kyliejenner!! I love you both so much".

Kim - who is said to have earned $24 million last year alone - said on her Instagram post: "Everything I am I owe it all to you mom!".

Adding: "Everything I will teach my daughter you taught me first! Thank you mom for being there for me & loving me unconditionally! I love you so much!!".

Kim couldn't be with Kris in person to celebrate Mother's day as she traveled to Brazil over the weekend.

Her husband Kanye West was MIA too. The rapper was in Chicago where he performed for the crowd during game 4 of the NBA playoffs between the Cleveland Cavaliers and the Chicago Bulls.

While her son Rob failed to post anything on social media, it didn't stop Kris from posting about him.

"My boy," she wrote, adding that she was "proud to be his mama" and that "he is the sweetest heart" in a series of heartfelt hashtags.

And though she was unable to pose with Rob, she did post a picture of herself with son-in-law Scott Disick.

She said: "I am super blessed with children.. And then he comes along!!! And what a special wonderful crazy boy he is!!! I love you so so much Scott."

Daughter Kim also posted a cute picture of North with her grandmother Mary Jo.

Kim posted: "I feel so blessed that my daughter gets to grow up knowing my amazing beautiful grand mother. Life is all about memories so take lots of pics and cherish all of the good memories!".