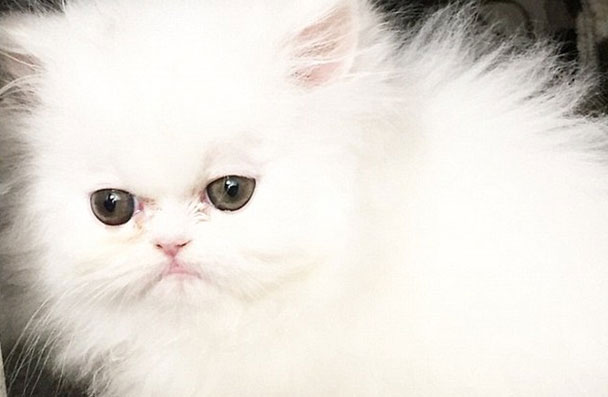 Meet the newest member of the Cyrus family
Miley Cyrus is now the proud owner of a white kitten named Shanti Om Bb.

The 22-year-old introduced her new feline friend via Instagram on Saturday, and has wasted no time setting up a social media account for the cat as well.

Miley captioned a photo of her cradling Shanti Om Bb in a plush white blanket, "Meet the newest member of the fam and follow on Instagram @shantiombb."

Miley seems determined to "break the internet" with Shanti's new Instagram account, which has already amassed thousands of followers.

Shanti's bio read: "I love you. You love me. I'm Shanti Om Bb! PS for bookings DM me."

One photo of the cute white kitten relaxing was captioned 'Break the Internet,' while the same snap of Miley cuddling Shanti was described as, "I love my mommy!"

The cat's first name - Shanti - is defined as "peace".

Miley is also the owner of a pig named Emu and a number of dogs.

The singer also has a tattoo of her dearly departed pooch Floyd, a three-year-old Alaskan Klee Kai who was killed by a coyote at her Los Angeles home last year.


Meanwhile, the same day Miley introduced her cat to her followers, she stepped out wearing a hippie inspired jean jacket in Los Angeles.
Miley was joined by her beloved assistant Cheyne Thomas, who also happened to be celebrating his birthday.
The singer appeared to be drumming up interest for her new non-profit The Happy Hippie Foundation with her new outfit.
She wore a baby pink crop top that flashed a glimpse of her toned tum, and finished off the look with distressed jeans and white platform sneakers.
Cheyne kept it casual with black trousers, a grey sweater, and a plaid shirt tied around his waist.
The social media savvy singer was all about her festive outfit that day on Instagram.