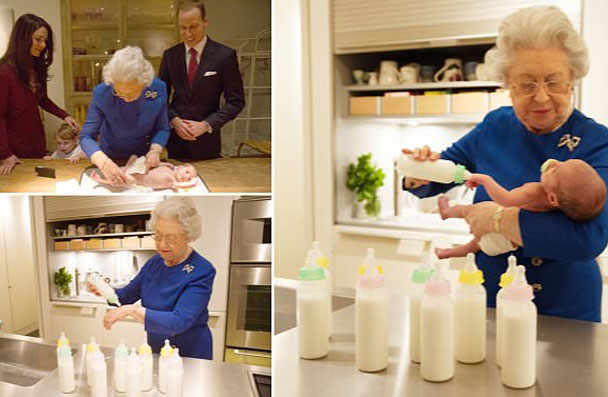 Queen is Put on Nappy Changing and Bottle Feeding Duties
Changing nappies and warming a baby's bottle aren't exactly the sort of royal duties we normally see the Queen carrying out.

But that's just what she did during her first meeting with her great-granddaughter… if, of course, these pictures are to be believed.

The Queen, who has four children of her own and is now a great-grandmother five times over, appeared to have lost none of her touch when she popped into Kensington Palace on Tuesday afternoon to spend 20 minutes with Princess Charlotte.

After being greeted by her grandson Prince William and his wife, the Duchess of Cambridge, the monarch, who recently celebrated her 89th birthday, gamely volunteered to lend a hand.

Rolling up her sleeves, the sovereign headed straight for the couple's kitchen to help with the baby duties.

After deciding the milk was suitable for the fourth-in-line to the throne, she popped the bottle into the hungry baby's mouth.

The royal dummy had been whipped out moments before and the Queen expertly cradled the young princess in one arm as she fed her.

Looking as immaculate as ever in an elegant blue outfit accessorised with an ornate brooch, the monarch even managed to change the baby's nappy as an impressed William and Kate looked on.

Mischievous Prince George – now a proud big brother – also crowded around to see what his family was up to, although he was quickly distracted by a mobile phone that was propped up on the table, perhaps trying to snap a few selfies of his own to stop his sister stealing all the limelight.

Kate, meanwhile, looked as picture perfect as ever thanks to her on-call hairdresser and those fabulous Middleton genes.

But appearances, of course, can be deceiving.

You may not be too surprised to learn that these intimate snaps of the Queen's first meeting with her great-granddaughter were actually captured by Alison Jackson, renowned for her spoof images using lookalikes.

Jackson admits she is always hunting down the best doppelgangers for her work, saying in a recent interview: "I chase people down the street and go up to people in restaurants."

It is widely agreed that Jackson's "Kate" is one of the best in the business, while her Queen is pretty close to the mark too.

But the real Duke of Cambridge might be relieved to hear that the balding William lookalike is probably a bit too chinny to be convincing.

When it comes to Charlotte, of course, many people also agree that all babies look the same – even those with royal blood.