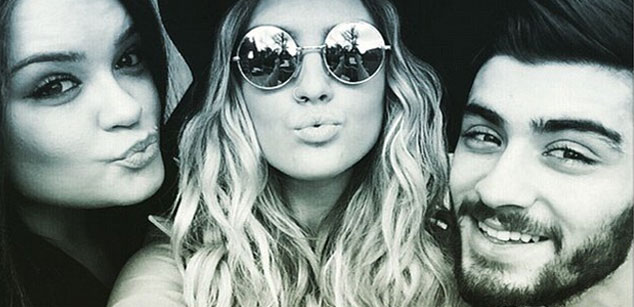 Zayn Malik's older Sister Reveals the Singer's Fiancee is "Like a Sister"
It's been a tough start to the year for Zayn Malik after he announced his shock decision to leave One Direction in March.

But the 22-year-old has his family to depend on, with the former boybander's older sister Doniya opening up on their close relationship in her first ever interview.

The beauty blogger also revealed in a chat with the BBC's Asian Network that she counts Zayn's fiancee Perrie Edwards as another sister, and can't wait until the Little Mix star is officially part of the family.

Doniya has amassed over half a million Twitter followers and close to 400,000 Instagram fans, sharing beauty tips with her young fans as well as updates on the glam perks she gets thanks to her younger brother's fame.

The parties and luxury holidays are relatively new and "surreal" for Doniya and the rest of the Malik family though, with Zayn only shooting to fame five years ago after his audition for the 2010 series of The X Factor.

Before then the siblings had a "normal family life" in Bradford, says Doniya, with their English mother Trisha, British-Pakistani father Yaser and their other two sisters Safaa and Waliyha.

"Because me and Zayn are very close in age, we've grown up together," says Doniya of their close relationship, but adds that now her younger brother "bosses me around, he acts like a big protective brother which is quite nice at times."

"When we were younger we used to fight and bicker over everything. He was quite spoilt growing up, but I'd say I was actually more spoilt than Zayn because I was the first grandchild," she explains of the family bond.

As for Perrie, who Zayn proposed to in August 2013, Doniya says they've got on from day one. The pair enjoy regular shopping trips and Doniya even went on holiday with the Little Mix star and Zayn last month, as the 1D star escaped from the headlines surrounding his exit from the band.

"Perrie's pretty cool, she's a really nice girl, she's really friendly, very easy to get on with, down to earth. It's like it is with my sisters," says the beauty blogger.

When asked about how she feels about Perrie joining the Malik family when the two singers eventually wed, she added: "[I'm] very happy [she'll be my sister in law] – she's a very nice girl."

As Zayn starts work on his solo career, Doniya is hoping to find success with her beauty blog.

"I've always been into makeup, from a young age I've been creative and artistic and I'm a YouTube junkie so I get all my tips and tricks from there," she says of her passion.