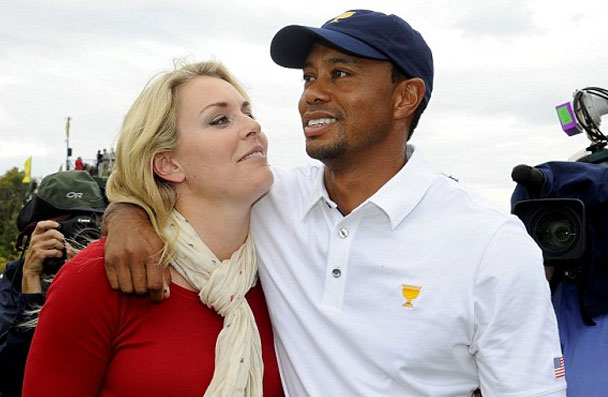 Tiger Woods and Lindsey Vonn SPLIT!
Tiger Woods and skier girlfriend Lindsey Vonn have broken up after three years together.

The Olympic gold medalist announced her split from the golfing great in a Facebook post on Sunday, saying the break up was mutual.

"I will always cherish the memories that we've created together. Unfortunately, we both lead incredibly hectic lives that force us to spend a majority of our time apart," Vonn wrote.

"I will always admire and respect Tiger. He and his beautiful family will always hold a special place in my heart."

Vonn recently talked about her relationship with Woods during an appearance on Late Night with Seth Meyers.

When Meyers asked Vonn if she liked coming out to support Woods during his games, Vonn said in a sarcastic tone: "I love golf."

Despite her lack of enthusiasm on Late Night, Vonn has been Woods' number one fan for the past several years and is very rarely missing from his tournament games.

Just last month, she chaperoned Woods' two young kids on the green at the Augusta National Golf Club so they could caddy for their dad competing in the Masters Tournament.

And in January, Woods traveled to Italy to watch Vonn win at the World Cup- a title which helped her set a new record as the most successful female in Alpine skiing history.

Unlike many high-profile couples, Vonn and Woods have been open about their relationship. In an interview with Self Magazine last year, Vonn described the many ways her boyfriend had made her a better person.

"He's helped me stay patient through rehab," Vonn said. "Golf is all about patience - one tournament is four days long, 18 holes a day. He helped me take it one day at a time."

"We're good for each other," she continued. "I don't know what he's learned from me, to be honest. But we push each other and help each other when we're down."

Before dating Vonn, Woods was married to former Swedish model Elin Nordegren from 2003 until 2010 - a year after his widespread infidelities were revealed by the National Enquirer.

Woods and Nordegren have two children together, an 8-year-old daughter named Sam Alexis Woods and a 6-year-old son named Charlie Axel Woods.

Vonn was also married before dating Tiger, getting her last name from her former coach and ex-husband Thomas Vonn.

They skiing couple split in 2011 and were officially divorced just last year.