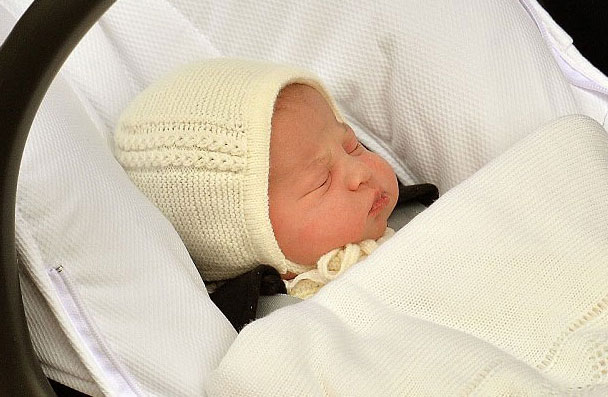 Baby Royal Arrived!
The Duke and Duchess of Cambridge glowed with pride as they left the hospital with their new baby daughter - just 12 hours after arriving at the Lindo Wing and ten hours after Kate gave birth.

The couple emerged on the steps outside St Mary's Hospital in west London shortly after 6pm to offer the world a brief glimpse of the new princess, who was wrapped in a white blanket and held tenderly in her mother's arms.

The baby, whose name is yet to be announced, was born at 8.34am today weighing 8lbs and 3oz - less than three hours after the Duchess was admitted to hospital.

Kate looked remarkably fresh in a yellow floral Jenny Packham dress, with her hair and make-up freshly done, as the pair stood for a few minutes proudly showing off their second child.

They appeared delighted with their new daughter and with the reception from the crowd, made up mainly of the media but also hundreds of people - some of whom had been waiting outside the maternity unit for a fortnight.

William then put his hand on the small of his wife's back before he ushered her back up the stairs and into the hospital.

They appeared again moments later with their little princess in her car seat as William placed her gently in the back of their Range Rover and Kate climbed into the passenger seat.

The Duke appeared delighted by his smoothing handling of the sometimes difficult manoeuvre and smiled and held up a two fingered peace sign to the cameras, before they drove off to Kensington Palace where they will spent their first night together as a four.

The couple didn't answer any questions, though William earlier told reporters he was "very happy".

Some strands of dark hair could be seen around the edge of the baby princess' bonnet which was tied under her chin as she slept through the shouts from the media and the clicks from dozens of camera shutters.

She was wrapped in a soft wool shawl made by the small, family-run Nottingham company GH Hurt & Son, based in Chilwell. The firm have a long-standing connection to the Royal Family, having made the shawl that wrapped George when he first left hospital.

Kate wore a Jenny Packham buttercup-print shift dress that the designer, one of the Duchess's favourites, says was made especially for her, teamed with a pair of nude Jimmy Choos, as she had done when George was born.