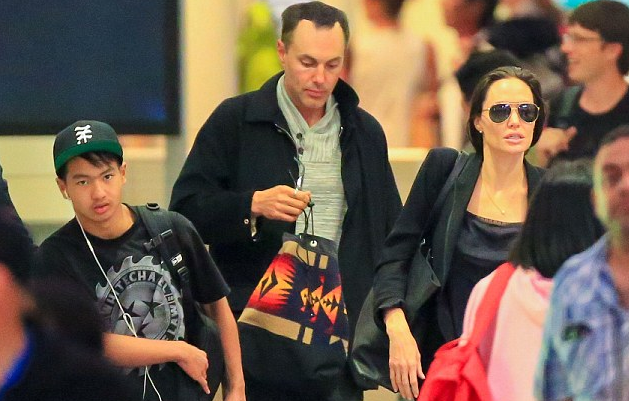 Jolie joined by her brother and son Maddox after urging world powers to aid Syrian
She's a seasoned traveler making a six hour flight from coast to coast look easy.

On Saturday, Angelina Jolie was spotted arriving at Los Angeles International Airport with eldest child Maddox, 13, and older brother James Haven, 41, after pictured departing from JFK International Airport in New York City a few hours prior.

The 39-year-old actress and activist had attended the United Nations Security Council Meeting in the Big Apple where she urged the UN to aid Syrian refugees.

The Maleficent star wore a black jacket over a black blouse along with black skinny jeans and black shoes.

Angelina had her black hair pulled back into a ponytail and also donned black sunglasses.

Maddox kept it casual wearing a black T-shirt of the deathcore band Whitechapel along with tan trousers and black sneakers.

The eldest of Angelina's six children also wore a black cap and had his earplugs at the ready.

The Unbroken director's sibling James - whom she famously kissed at the Oscars in 2000 - dressed in a grey pullover, black coat, denim jeans and black sunglasses.

He was spotted staying closely behind Angelina and Maddox in both LA and NYC.

Angelina pleaded with world powers on Friday to help the millions of Syrian refugees and sharply criticised the U.N. Security Council for being paralyzed by its division over Syria's four-year conflict.

Jolie briefed the council as special envoy for the UN on refugee issues.